Hot dog eating champion Matt Stonie inhales 12 pints of ice cream in half an hour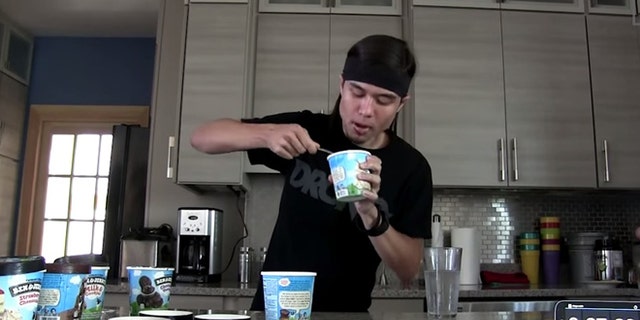 Just a month after emerging victorious at Nathan's popular hot dog eating championship in Coney Island, New York, Matt Stonie has completed a feat that will make anyone who suffers from brain freeze shudder at the thought.
Stonie chronicles personal challenges on his own YouTube channel to complete the Ben & Jerry's 12 pint challenge. In just 36 minutes, Stonie takes down 12 full pints of Ben and Jerry's flavors including Cherry Garcia, Karamel Sutra and Milk & Cookies. While there's no perfect way to consume over 13,000 calories of ice cream in under 40 minutes, Stonie appears to let the ice cream melt a bit before forging ahead with most bites.
The reigning competitive eating champion faces a few pitfalls though. He bites his tongue in between spoonfuls of raspberry ice cream and admits feeling full about halfway through.
"I'm so cold," he admits around minute 21. Once the 30 minute mark passes, Stonie is a bit crestfallen that he couldn't quite complete the challenge in half an hour. But when it's all said and done he wonders why he even wanted to do this challenge in the first place.
"What was I thinking?" he asks. "A hot shower sounds really good right now."