Homer's delight: Cheeseburger-stuffed donut and other crazy PYT creations
You may have heard of PYT --the Philadelphia burger joint made famous a few weeks ago after Eagles running back LeSean McCoy stiffed a server.
McCoy tipped waiter Rob Knelly 20 cents saying, "There's a big difference with just being rude and disrespectful," and even Charlie Sheen chimed in pledging $1,000 to Knelly for the lost money.
But in the food world, the Philadelphia burger restaurant has long been renown for its creatively weird burger combos.
The self-proclaimed "home of America's craaaziest burgers," came out with yet another winner this week-- The Doh! Nut, a cheeseburger stuffed donut.
The Homer Simpson-inspired pastry is beef and American cheese nestled inside a sweet donut, topped with bacon bits.
This burger may have your cardiologist running for the hills, but PYT is no stranger to over-the-top burgers.
While most of these frankenburgers are available for a limited time, these mad-scientist concoctions are the stuff of burger dreams. Their latest creations may even lure LeSean McCoy back to taste.
1. The Doh! Nut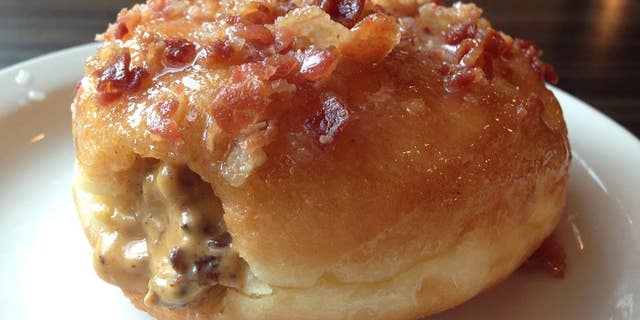 When a donut has bacon as sprinkles, what can go wrong? Take a bite and enjoy the gooey, beefy center.
2. PYT's Bacon-Wrapped Burger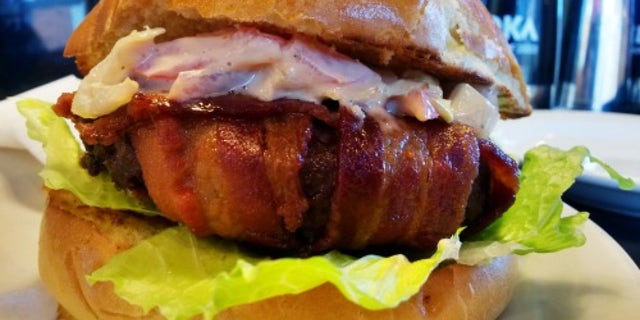 The tragedy of most bacon cheeseburgers is not being able to get that salty, crunchy goodness in every bite. This behemoth easily remedies that problem. Served on a potato roll and topped with PYT's "backyard slaw" this burger was sadly only available for a limited amount of time.
3. The Crab Cake-Bun Burger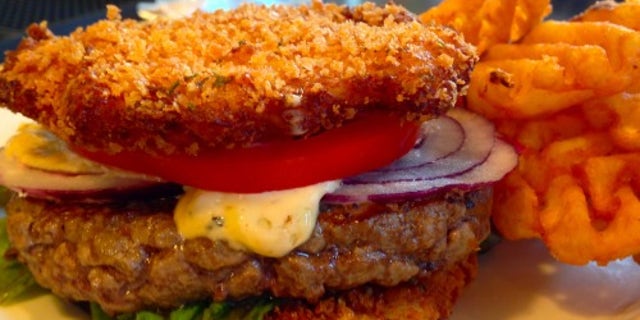 Calling all seafood lovers. This beautiful burger sandwiches a juicy beef patty between two mega sized crab cakes.
4. The Wet Hot American Picnic Burger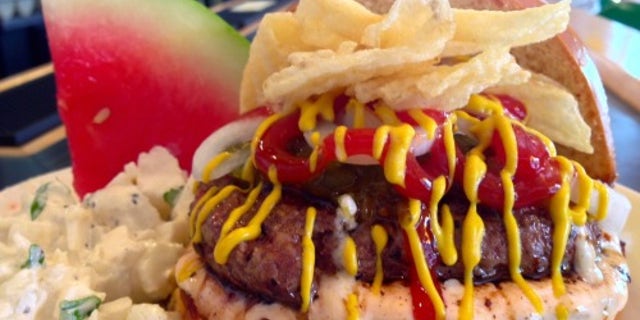 Inspired by the 2001 camp comedy, The Wet Hot American Picnic Burger, has everything but the grill: a "beef patty stuffed with a real hot dog and gooey American cheese, topped with house-made Russian dressing, ketchup, mustard, onion slices, sweet pickle relish and crunchy potato chips on a brioche roll."
Don't forget to save room for the watermelon slice served on the side.
5. Buffalo Chicken Donut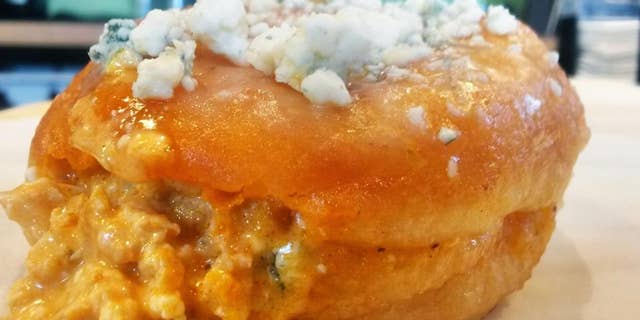 It may not look all that elegant, but this burger with chunks of chicken breast smothered in a savory Buffalo sauce pumped into PYT's donut combines the sweet with the savory. Don't worry wing lovers, this donut is sprinkled with blue cheese to round out the flavor.
6. The PB&J Bun Burger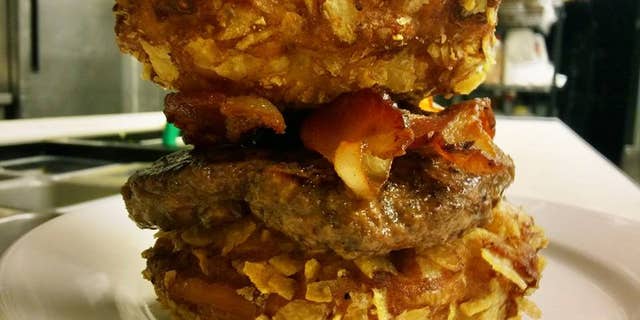 What happens when you combine a kindergarten lunchbox favorite with the appetite and imagination of a high school teen? This over-the-top PB & J burger. The beef patty is marinated in banana-sriracha, topped with bacon, while deep fried kettle chip coated PB&J sandwiches form the buns.
7. Fried Chicken & Beer Burger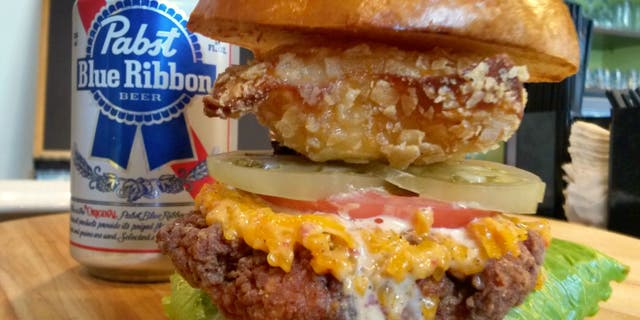 Behold PYT's exploding burger. It's a Southern-fried chicken patty slathered with pimento cheese and stacked with lettuce, tomato, pickled green tomatoes and fried wonton filled with PBR beer. "The beer kind of explodes out in the best way," says PYT.