Home-cooking champion Marion Cunningham dies at 90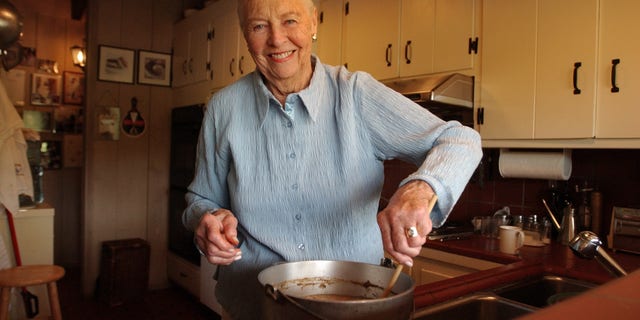 SAN FRANCISCO – Marion Cunningham, the home-cooking champion whose legacy can be found in the food-spattered pages of "Fannie Farmer" cookbooks in kitchens across America, has died at age 90.
Cunningham, who had been ill for some years, died Wednesday of complications from Alzheimer's disease at the John Muir Medical Center in Walnut Creek, Calif.
Best known for her revisions of the classic "The Fannie Farmer Cookbook," in 1979 and again in 1990, Cunningham also wrote several other books, including "The Breakfast Book," "Cooking with Children," and "Lost Recipes." She also hosted a television series, "Cunningham & Company," that aired on the Food Network.
Though she moved in rarefied circles that included culinary luminaries such as James Beard and Alice Waters, Cunningham resisted trendiness. She was an ardent supporter of the humble iceberg lettuce and specialized in simple, straightforward recipes.
Along with that approach went a deep concern about the disappearance of the home-cooked meal eaten en famille. "Home cooking is a catalyst that brings people together," she wrote in the forward to "Lost Recipes." "We are losing the daily ritual of sitting down around the table (without the intrusion of television), of having the opportunity to interact, to share our experiences and concerns, to listen to others."
Waters, a longtime friend and the force behind the groundbreaking Chez Panisse restaurant in Berkeley, Calif., said Cunningham preached the value of food quality and home cooking long before it was fashionable, and in doing so became the nucleus of what grew into the modern food movement.
"She had so much humor and charm and earnestness and passion and all of that, everybody listened up," Waters said in a telephone interview. "And she was always championing the people around the country who really expressed that, those feelings about the table and simplicity. In that sense, she almost sewed together the movement."
Born in Southern California, Cunningham married her high school sweetheart, Robert Cunningham. The couple, who had two children, later moved to Walnut Creek, east of San Francisco. Robert Cunningham, a lawyer, died in the late '80s.
A self-taught cook, Cunningham didn't take her first steps toward a cookbook career until her mid-40s when she traveled to Oregon to take a class that Beard, then a chef and food writer, was teaching.
"It was just a magic gathering," she said in a 1983 New York Times story. "To have someone come right out of the pages at you. That's really what changed things for me."
Beard subsequently invited her to be his assistant and, later, recommended her for the job when publisher Alfred A. Knopf was looking for someone to update the classic "Fannie Farmer" cookbook.
"Marion Cunningham epitomized good American food," legendary Knopf cookbook editor Judith Jones said via email Wednesday. "She was someone who had an ability to take a dish, savor it in her mouth, and give it new life. At a time when Americans were embracing all kinds of foreign cuisine, Marion Cunningham's love and respect for American food helped `The Fannie Farmer Cookbook' once again earn a place in kitchens across America."
Cunningham also was a bit of a car enthusiast -- she ran a gas station for two years during World War II -- and a Jaguar was her main indulgence once she became successful. She regularly drove into San Francisco to have dinner with friends.
More recently she had been too ill to go out, though she was still a presence in food circles, toasted at dinners held in honor of her birthday at restaurants like Chez Panisse and San Francisco's Foreign Cinema.
In 1993, she received the Grand Dame award from Les Dames d'Escoffier, an organization of women leaders in food, beverage and hospitality, in recognition of her achievement and contribution to the culinary arts, and in 1994 she was named Scholar-in-Residence by the International Association of Culinary Professionals.
When she published "Lost Recipes" in 2004, she told The Associated Press about the importance of home cooking, and food as a binding ingredient.
"Food is a topic of conversation," she said. "It can be an imprint that you pass onto someone else. It can be a shared experience. Sitting down and eating together is a binding quality for a family. Eating on the run doesn't cover all the bases it should."