High-Proof Fall Flavors Make for Warm Moments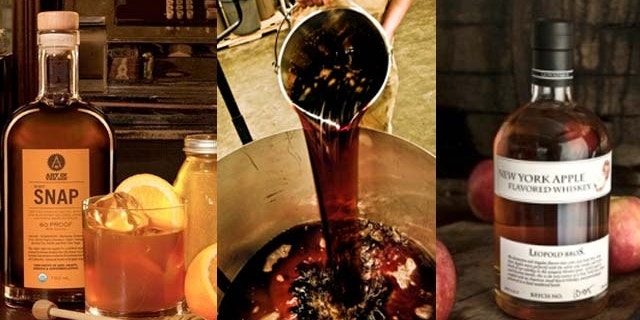 With the holidays rapidly approaching and leaves falling in a rich multi-colored storm of gold, red and brown, it's impossible to deny: Fall is here.
While this season brings the promise of winter chills, it also delivers some of the most delicious flavors of the year--all of which can be found in high-proof forms.
Fall flavors, known for warmth and complexity, take on added richness when mixed into cocktail. Cinnamon shines with a vibrant heat. Crisply, sweet apples become gently spicy and pie-like with no baking required. Even sharp ginger, a subtle pumpkin pie standard, becomes a star when it falls off the wagon into a bottle.
There's a long list of great Fall spirits, but a number of new bottles are making a big splash in liquor cabinets this season. Given their artisan nature, they may be a little harder to find than Bailey's or Calvados in your local liquor emporium, but they're well worth the hunt. Break them out to help the Thanksgiving digestion along. Your tryptophan-addled guests will thank you from the bottom of their heart (burns).
Leopold Bros. New York Apple Whiskey – Flavoring whiskey is always tricky business. Whiskey purists will be up in arms no matter what you do, and as a general rule, they're right to be. Whiskey is a beautiful thing on its own. So why mess with perfection? Leopold Bros. has answered that question fairly definitively by delivering an apple flavored bottle of delicious that pays its respects to traditional whiskey. The warmth of the spirit pairs perfectly with the apples from upstate New York – giving the mix a rich, apple pie-like flavor, with the spice and oak balancing out the sweetness nearly perfectly. The liquid clings to the tongue just enough, with a creamy texture that lets the vanilla and cinnamon build as you drink it. Even better, it makes a beast of a Manhattan – perfect medicine to keep holiday guests from crossing the line into unwelcome territory.
St. Elizabeth Allspice Dram – When people think of rum, it usually involves tiki drinks loaded with juice and garnished with entire fruit salads--not to mention pirates. St. Elizabeth Allspice Dram is a different beast. Combining clove, nutmeg, cinnamon and just enough black pepper to make things intriguingly spicy, this is a bottle that seems designed expressly for Fall bonfires and chilly weekend mornings. Drink it in a mug with warm coffee or cider spiked with a dram of Dram. The rich and almost thick liquid is bottled at 45 proof, but the hefty flavors mask the heat of the alcohol and make for a spirit a bit too intense to sip on its own. But one that absolutely sings when paired with the right ingredients. Chocolate and cream liqueurs scream for this stuff, and the spice matches up with coffee and whiskey in a way that brings smiles to even the most jaded caffeine addict.
Pome Aperitif Norman – A blend of Calvados and cider set aside to age in oak barrels, Aperitif Norman is an odd duck, to say the least. Hard ciders normally are carbonated, with crisp sweetness and a mouth-puckering aftertaste. The combination of apple brandy and cider here highlights the juicy side of apples tough, with a rich caramel backnote filling in the blanks. The oak barrel lends a smoky note, keeping the mix from getting too sweet or cloying, but make no mistake – this is a rich and heavy spirit. Almost mead-like in texture and weight, it's almost sensual, engaging every inch of the palate. Best taken in small sippable doses, it's a Fall date night in a bottle.
Snap Liqueur – Ginger is a big part of the holidays, starting with its supporting role in pumpkin pie and heading straight for home with gingerbread houses and cookies. Few things can evoke the kind of childhood memories those flavors do. Snap seems expressly designed to bring back fond memories of scooping up pumpkin pie filling by the spoonful and hoarding ginger cookies. Made from nutmeg, clove, cinnamon, ginger, brown sugar, vanilla, blackstrap molasses, and Rooibos tea, Snap is a complex mix that's a bit heavy-handed with the molasses, but offers up ginger spice notes by the bushel. At 80 proof, it's powerful stuff, it desperately needs some breathing time in a glass to allow some of the alcohol to evaporate off or to be mixed in a drink. But there aren't many things like it on the market. In the right cocktail, it's perfection – as a spicy note in a twist on an Old Fashioned it's intriguing, for example. And swapping Snap in for the rum in a Hot Buttered Rum is one hell of a bedtime treat.