Here are all the big James Beard restaurant and chef award winners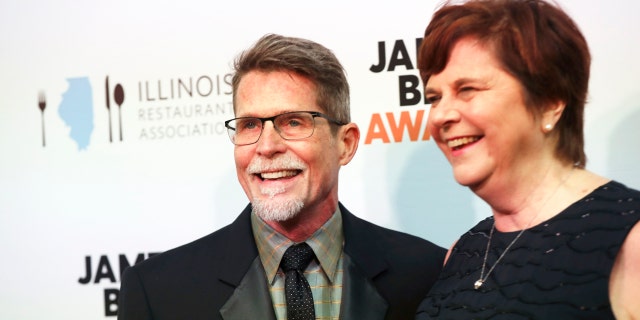 Chef Michael Solomonov of Zahav in Philadelphia took home the outstanding chef award Monday night at the James Beard Awards, and Chicago's Rick Bayless' high-end Mexican eatery Topolobampo won the outstanding restaurant honor.
Another Philadelphia foodie — Stephen Starr of Starr Restaurants — won the outstanding restaurateur award at a ceremony many consider the Oscars of the culinary world.
"We just wanted to bring some of the heart and soul that people have shared with us in Mexico and share it with the people in this country," an emotional Bayless said as he accepted the award at Chicago's Lyric Opera. "We have in our restaurants always sought to put heart first."
Bayless has won many Beard honors over the last 26 years, including outstanding chef in 1995 and Humanitarian of the Year in 1998. Topolobampo is a well-known favorite of Barack and Michelle Obama and previously received nominations for outstanding restaurant and outstanding service. Another James Beard Award-winning Chicago chef — Grant Achatz of Alinea — presented Bayless with the award.
Solomonov is from Israel but was raised in Pittsburgh. He was nominated for the top honor last year but didn't win. Zahav features modern Israeli cuisine. Solomonov's current menu at Zahav highlights creatively paired simple foods. His brisket is served with apricots, and he offers roasted lamb with pomegranate and chickpeas.
"I'm incredibly lucky that my work is my life's work," he said Monday night.
The Beard Awards moved to Chicago in 2015 after being based in New York for more than 20 years. The James Beard Foundation announced last October that the awards will remain in Chicago through 2021. This year's host was actor Jesse Tyler Ferguson of the TV sitcom "Modern Family."
"You have these insane creative little minds," Ferguson told the crowd of chefs and restaurateurs during his opening monologue. "Us commoners we're just trying to keep up. You're constantly challenging us to expand our palettes and try new things. It's so inspiring."
Presenters included Hollywood names such as actresses Sophia Bush and Valerie Bertinelli, actor David Burtka and former boxer Laila Ali.
The outstanding pastry chef award went to Tunisia native Ghaya Oliveira of Daniel restaurant in New York, where her dessert menu features ingredients like cardamom poached pear, blackberry-orange blossom sorbet and Mexican vanilla bean gingerbread.
This year's best new restaurant honor went to Le Coucou in New York, one of Starr's restaurants. The outstanding baker award went to Mark Furstenberg of Bread Furst in Washington.
Arnaud's French 75 Bar in New Orleans won outstanding bar program, and Canlis in Seattle won outstanding wine program. Zachary Engel of Shaya restaurant in New Orleans was named the rising star chef of the year. Shaya won the best new restaurant award last year.
The James Beard Foundation's lifetime achievement award went to Nora Pouillon of Restaurant Nora in Washington for her work creating organic food certification standards and commitment to local foods.
The winners of the 2017 James Beard Foundation restaurant and chef awards announced Monday are:
NATIONAL RESTAURANT AND CHEF AWARDS
— Best New Restaurant
Le Coucou in New York
— Outstanding Baker
Mark Furstenberg of Bread Furst in Washington
— Outstanding Bar Program
Arnaud's French 75 Bar in New Orleans
— Outstanding Chef
Michael Solomonov of Zahav in Philadelphia
— Outstanding Pastry Chef
Ghaya Oliveira of Daniel in New York
— Outstanding Restaurant
Topolobampo in Chicago
— Outstanding Restaurateur
Stephen Starr of Starr Restaurants in Philadelphia
— Outstanding Service
Blue Hill at Stone Barns in Pocantico Hills, New York
— Outstanding Wine Program
Canlis in Seattle
— Outstanding Wine, Beer or Spirits Professiona
Sam Calagione of Dogfish Head Craft Brewery in Milton, Delaware
— Rising Star Chef of the Year
Zachary Engel of Shaya in New Orleans
___
RESTAURANT DESIGN AWARDS
— 75 Seats and Under
Firm: AvroKO
Designers: Kristina O'Neal, William Harris, Adam Farmerie and Greg Bradshaw
Project: SingleThread, Healdsburg, California
— 76 Seats and Over
Design Firm: Meyer Davis
Designers: Will Meyer, Gray Davis and Katie McPherson
Project: St. Cecilia, Atlanta
—Design Icon
Grand Central Oyster Bar and Restaurant
New York
___
REGIONAL CHEF AWARDS
—Best Chef: Great Lakes (IL, IN, MI, OH)
Sarah Grueneberg of Monteverde in Chicago
—Best Chef: Mid-Atlantic (D.C., DE, MD, NJ, PA, VA)
Greg Vernick of Vernick Food and Drink in Philadelphia
—Best Chef: Midwest (IA, KS, MN, MO, NE, ND, SD, WI)
Kevin Nashan of Sidney Street Cafe in St. Louis
—Best Chef: New York City (Five Boroughs)
Marco Canora of Hearth
—Best Chef: Northeast (CT, MA, ME, NH, NY STATE, RI, VT)
Andrew Taylor and Mike Wiley of Eventide Oyster Co. in Portland, Maine
—Best Chef: Northwest (AK, ID, MT, OR, WA, WY)
Gabrielle Quinonez Denton and Greg Denton of Ox in Portland, Oregon
—Best Chef: South (AL, AR, FL, LA, MS, PR)
Rebecca Wilcomb of Herbsaint in New Orleans
—Best Chef: Southeast (GA, KY, NC, SC, TN, WV)
Steven Satterfield of Miller Union in Atlanta
—Best Chef: Southwest (AZ, CO, NM, OK, TX, UT)
Hugo Ortega of Hugo's in Houston
—Best Chef: West (CA, HI, NV)
Corey Lee of Benu in San Francisco
___
America's Classics
—Bertha's Kitchen, Charleston, S.C.
Owners: Julia Grant, Linda Pinckney and Sharon Coakley
—Gioia's Deli, St. Louis
Owner: Alex Donley
—La Taqueria, San Francisco
Owner: Miguel Jara
—Sahadi's, Brooklyn, N.Y.
Owners: Christine Sahadi Whelan and Ron Sahadi
—Schultz's Crab House, Essex, Md.
Owners: Chrissy Burkman, Stephanie Kell, Jason McKinney, Michelle McKinney, Robert A. McKinney Jr. and Stephan McKinney
___
Who's Who of Food & Beverage in America
—Roger Berkowitz
President and CEO, Legal Sea Foods
Boston
—Suzanne Goin
Multiple James Beard Award-winning chef and restauranteur
Los Angeles
—Evan Kleiman
Culinarian; Host of KCRW's "Good Food"
Los Angeles
—Michel Nischan
Multiple James Beard Award-winning chef; Founder, president and CEO of Wholesome Wave
Bridgeport, Conn.
—Rajat Parr
Domaine de la Cote
Lompac, Calif.
___
Humanitarian of the Year
Denise Cerreta of One World Everybody Eats in Salt Lake City
___
Lifetime Achievement Award
Nora Pouillon of Restaurant Nora in Washington