Heineken's politically charged ad earns praise on social media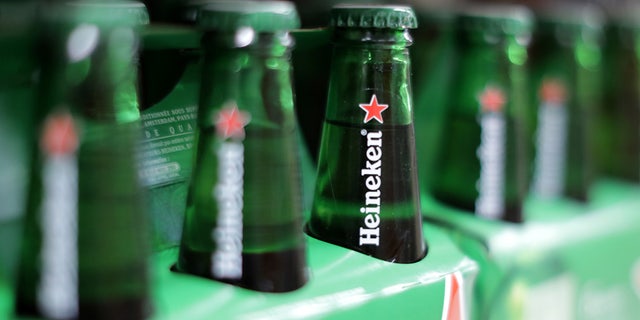 As part of their new #OpenYourWorld ad campaign, Heineken conducted a social experiment that could've gone horribly, horribly wrong.
The beer brand decided to take people with vastly different political and sociological beliefs, put them inside a secluded room with construction tools-- and gave them alcohol.
But instead of fighting or removing themselves from the room, each of the participants reacted in a shockingly adult manner — and because of that, the ad is earning plenty of accolades online.
BUD LIGHT SLAMMED FOR GIVING HOMELESS PEOPLE BEER DURING MARKETING STUNT
The commercial begins by introducing three pairs of strangers, and soon, each pair is placed in a room and asked to assemble a few pieces of furniture.
At first, the participants do not know the other's feelings on issues like climate change, transgender rights and feminism — which is good, because Heineken paired a climate change denier with a believer; a transgender woman with a man who thinks that a female should "be a female"; and a feminist with a man who thinks feminism is akin to "man-hating."
While assembling the furniture, each pair of participants was then asked to answer specific questions about themselves, and, somewhat surprisingly, all three pairs took a liking to each other.
Upon completion of their construction duties, the pairs were asked to sit down at the structure they just built — which turned out to be a bar — and watch a short film.
That film was comprised of the one-on-one interviews that Heineken conducted prior to the experiment, and it revealed that each participant was sitting across from a person of polar opposite beliefs.
They were then given the choice of leaving, or staying to share a beer at the bar they just built.
Not only did all three pairs decide to relax and discuss their issues like rational adults, but each seemed more open to understanding their partners' points of view.
FOLLOW US ON FACEBOOK FOR MORE FOX LIFESTYLE NEWS
The four-minute commercial, "Worlds Apart," has already been viewed more than 3.6 million times since debuting on Heineken's YouTube channel on April 20. The ad is also receiving plentiful praise on social media, with many celebrating Heineken for handling a politically charged issues better than Pepsi, which, in early April, debuted a commercial where Kendall Jenner halted a potential riot by giving a cop a can of Pepsi. The commercial, which many saw as insensitive to movements like Black Lives Matter, became a PR nightmare for the soda giant, eventually prompting Pepsi to retract the ad and issue an apology.
On the other hand, at least one social media commenter says Heineken's ad was "more tone-deaf than Pepsi's" for ignoring the real problems that minorities, women and trans people face.
Others simply still aren't sold on the idea of food industry conglomerates using politics in any way to sell products.
KENDALL JENNER'S PEPSI AD DIDN'T REALLY HURT PEPSI, SAYS SURVEY
Heineken feels their experiment was a success.
"The result was pretty life-affirming," said Cindy Tervoort, Heineken's marketing director, in a statement to TODAY.
"Finding common ground with each other does bring down the preconceived barriers we put up and make us more open."