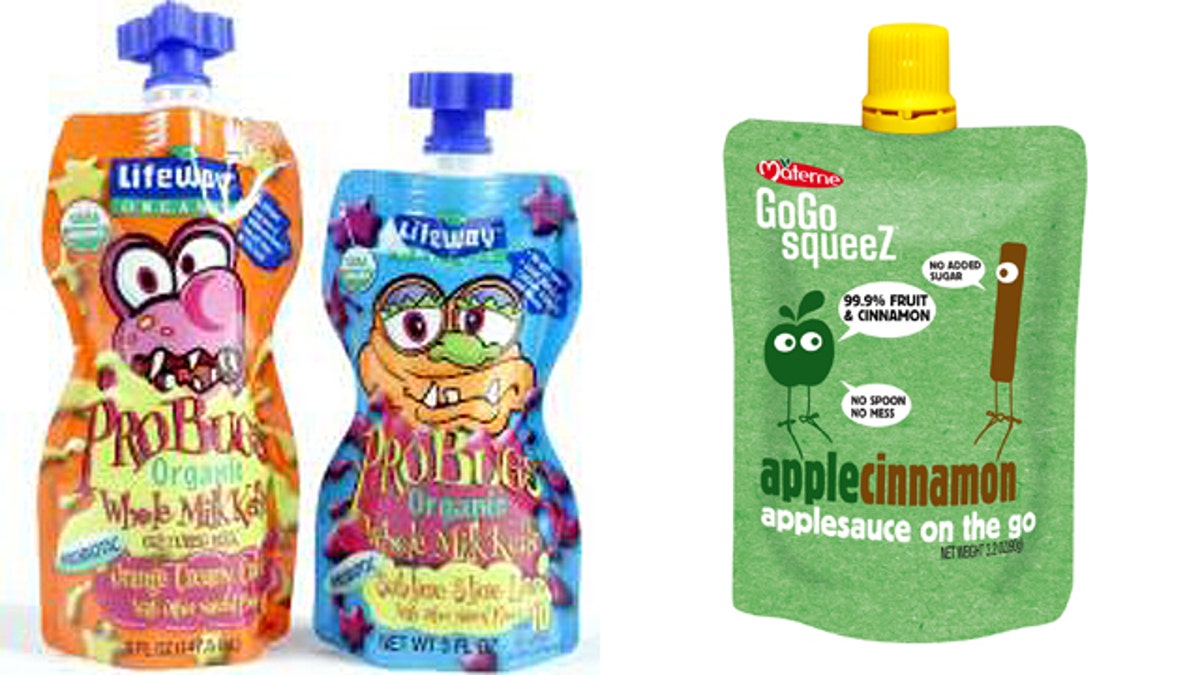 Whether you're sending your kids off to summer camp or daycare, or your toddler's enrolled in a few "classes" each week, here are some fun and mostly healthy snacks to keep kids eating right whether they're with you or not. Many are organic, all are preservative-free, have zero trans fats and no high-fructose corn syrup. Kids from one to eight years of age sampled the products, and if they didn't like it, it's not here.
GoGo squeeZ is a mess-free applesauce packaged in squeezable, re-sealable pouches with screw-on caps that are a huge improvement on the usual mini-tubs with peel-off foil tops, the contents of which end up on clothes as often as in mouths. It comes in five no-sugar-added applesauce-based flavors: strawberry, cinnamon, banana, peach and basic apple. One pouch equals one fruit serving. Similarly packaged Homemade Harvey offers squeezable certified organic fruit in three flavors: strawberry, banana and kiwi; apple, pear and spice; mango, pineapple, banana and passion fruit.
High-sugar drinks like sodas and juice have been linked to obesity in kids, but kids don't enjoy drinking water all the time. Honest Kids certified organic juice quenchers have half the sugar of other juice drinks, a full serving of vitamin C and are what many parents make at home - a blend of juice and water. Goodness Grapeness, Berry Berry Good Lemonade, Tropical Tango Punch, Appley Ever After and Super Fruit Punch are sweet enough that kids don't miss the sugar and not too sweet for adults.
Lifeway Foods' ProBug Smoothies are organic kefir-based smoothies with flavors like Strawnana Split, Goo-Berry Pie, Orange Creamy Crawler and Sublime Slime Lime. Kefir looks and tastes like yogurt, but has more beneficial flora (aka: probiotics) than yogurt, which promote healthy digestion. Squeezable pouches with screw-off caps and no-spill spouts makes them ideal for travel.
WooHoo Food's Gudernoobs, all-natural, individually wrapped bite-sized treats made with dates, apples, walnuts, raisins, oatmeal, banana, peanuts, cinnamon, cocoa, vanilla and flax (they're introducing nut-free varieties this fall) are "the original un-candy," according to the company. Awesome Apple Cider, Outrageous Banana Oatmeal, Perfect Peanut Butter and Big Time Brownie are surprisingly sweet and nicely chewy.
It Tastes RAAW fruit and vegetable juices – Better Beets, Carrot Lemondade, and Cranberry Ginger are like Jampa Juices on the go and have no added sugar or preservatives. While not a substitute for actual produce, the juices can supplement fruit and vegetable intake and are especially good for vegetable-resistant kids.
Fruitabu Fruit Rolls are all-natural fruit roll-ups, or rather unroll-ups. Kids uncoil the mashed fruit from a long strip of brown wax paper, making it more fun to eat than regular fruit leather. Kids like sharing it because they get to unroll and tear off sections for friends.
Cookies are great treats, but healthy cookies often don't deliver on taste and texture. Fantastic granola maker Bear Naked has just come out with two all-natural soft-baked granola cookies, Double Chocolate and Oatmeal and Fruit. Each is softly chewy, not too sweet, full of flavor and has 10 grams of whole grains per serving.
KIDStrong® Hydration Beverage is a sports drink for kids five to 13 years old that has no artificial flavors, sweeteners, preservatives and stimulants. Its low-glycemic index complex carbohydrate blend has just 30 calories, three grams of sugar and 22 vitamins and minerals in an eight-ounce serving, and is available in "natural grape" and "natural orange" flavors.
Little Duck Organics Tiny Fruits are freeze-dried, melt-in-your-mouth fruits snacks for infants and toddlers. They're crispy right out of the package but soften immediately once they're in your mouth. They're certified organic, preservative-free, have no artificial ingredients, no added sugar, are NON-GMO certified, gluten-free and Kosher Parve. The one-ounce pouches are perfect for tossing in diaper bags.
Food police, go away. Bernod's Spun City Organic Cotton Candy in cherry vanilla and grape come in 100-calorie, fat-free, one-ounce pouches and are free of synthetic dyes, artificial colors and flavors. Sure, being organic doesn't make it healthy, but kids love cotton candy and this one's free of the additives and coloring of conventional version, and sugary snacks, as with most other treats, are okay in moderation. It's also a great occasional snack for kids with peanut and tree-nut allergies who can't eat store-bought baked goods and candy.
Crunch Pak Sliced Apples, which come both organic and conventional, are pre-sliced, pre-packaged apples that won't turn brown by lunch time. Each slice is rinsed with calcium and vitamin C to prevent browning, like using lemon juice to keep the apple in a pie from browning. It is also available mixed with other fruits.
You want your kids to eat healthy and you want them to enjoy what they eat. Hopefully you'll find something here that will satisfy you both.