Healthy School Lunch Recipes for Even the Pickiest of Eaters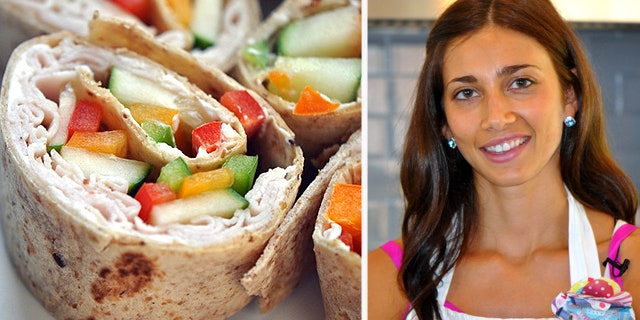 School is back in session, to the relief of many parents. But sometimes getting your kids to eat a healthy meal can be almost as hard as getting them to the bus stop on time.
These recipes will get them to indulge in good-for-you food that tastes great.
Try turkey veggie roll ups, chocolate chip bars with a surprise ingredient, and fruit and veggie dips -- fast and easy lunches that even the pickiest eater will enjoy.
Eating well doesn't have to be complicated, so pack those lunch boxes, school time is here.
Prep Time: 15 minutes
Cook Time: 35 minutes
Serving Size: Varies
Turkey Veggie Roll Ups
makes 1 serving
Ingredients:
1 large whole wheat wrap
3 tbsp cream cheese or hummus
4 slices turkey or your child's favorite lunch meat
2 cups chopped veggies, rainbow colors
1/2 tsp salt dash or pepper
Preparation:
1) Spread 1 1/2 tbsp of cream cheese on wrap.
2) Sprinkle a bit of salt and/or pepper on the cheese (optional). Place turkey or favorite lunch meat on the wraps on top of the cream cheese. Set aside.
3) Chop all your veggies into strips
4) Arrange veggies on top of the lunch meat on the wraps
5) Roll up wraps
6) Slice the wrap into 5 small spirals.
Chocolate Chip Surprise Bars
Ingredients:
1 1/2 cups chickpeas, drained and rinsed
3/4 tsp baking powder
1/8 tsp baking soda
1/8 tsp salt
3/4 cup brown sugar
2 tsp vanilla extract
1/2 cup ground whole wheat flour
1/4 cup butter, softened (or other fat source, such as peanut butter or almond butter)
1/3 cup chocolate, butterscotch, or peanut butter chips
Preparation:
1. Preheat oven to 350 degrees. Place all ingredients except for chocolate chips in a mixer and blend until very smooth.
2. Mix in chips gently by hand
3. Place dough into a greased 8×8 pan.
4. Bake for 35 minutes and remove from oven
5. Let cool, cut, and enjoy.
**Note, they will look a bit undercooked when you take them out of the oven, as they will firm up when they cool down.
Creamy Strawberry Dip
Ingredients:
4 tbsp lowfat cream cheese, softened
6 oz vanilla yogurt
? cup chopped strawberries
Preparation:
1. Whisk all items together until well combined.
2. Serve with cut up apples, pineapple, melon, berries or spread between graham crackers
Savory Veggie Dip
Ingredients:
Greek yogurt
lemon juice
packet of ranch seasoning
Preparation:
1. Whisk together Greek yogurt and lemon juice until thoroughly combined
2. Season with 1 tbsp ranch seasoning and mix well
3. Serve with celery, cucumber, carrots, or crackers
Makes a great alternative to mayo on sandwiches.
Kris Schoels is the editor of Young Married Chic -- a blog devoted to baking, fashion, home decor and travel.