Healthy pool-side snacks that kids will love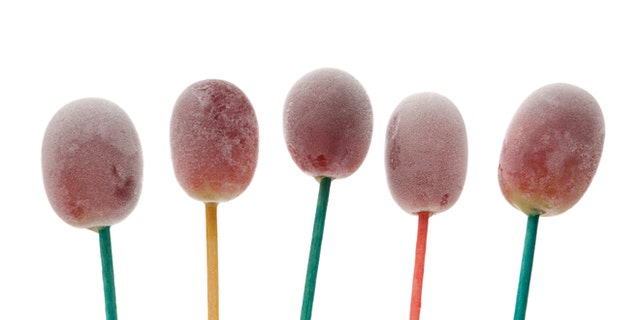 Don't be afraid to get creative this summer and offer your kids fun and healthy pool-side snacks.
Whether hosting a pool-party at home, or cooling off on a hot day at your local pool, here are some quick ideas for wholesome snacking, according to Andrea Correale, celebrity caterer and owner of Elegant Affairs.
Here, Correale provides expert advice for serving up super kid-friendly eats, all of which can be prepared easily in advance and later taken on the go.
A nutritious twist on a pool-side classic
Correale proposes homemade fresh juice pops as a refreshing alternative to sugary, processed ice pops.
"Simply freeze fresh squeezed juice in ice pop molds. For this, you can use an array of different fruits (if you have a juicer you can use any fruit)," she says.
Her favorite kid-approved version of this chilly, frozen treat: watermelon lemonade. Simply combine 2 cups watermelon (packed, finely chopped, seeded), half of a thawed 12-ounce can of frozen lemonade concentrate and 3 tablespoons of sugar.
After pureeing the mixture in a processor until it's smooth, divide it among eight ice pop molds (each about one-fourth to one-third of a cup capacity) and freeze until firm, at least four hours. Store in an ice-packed cooler if taking on the road.
Indulge sweet cravings with nature's candy
Correale also suggests frozen grapes, which taste like "hard candy." To make her frozen grape skewers, wash your grapes and thread three onto each toothpick. Freeze the skewers on a tray for at least four hours or overnight. When finished, store in an airtight container in the freezer.
"These are so simple to make and are absolutely delicious!" she says.
For an even quicker homemade snack, Correale recommends putting fresh fruit on skewers to make fruit kabobs with a honey yogurt dip. "This satisfies a sweet tooth and doesn't take as much time to prepare because you don't have to freeze the fruit," she says.
Combine two cups of vanilla yogurt, a half a cup honey and 1 teaspoon of ground cinnamon in a small bowl; stir to blend. She suggests placing the bowl on a platter and surrounding it with fruit kebabs to serve.
Shrewd substitutes for the salty snacker
Rather than regular potato chips that can pack in a hefty 10 grams of fat per serving, try Correale's recipe for homemade beet chips.
Preheat your oven to 325 degrees. Peel the beet skins using a vegetable peeler. Using a sharp knife, slice the beets as thinly and evenly as possible. Lightly brush both sides of the beet slices with olive oil and sprinkle with salt. Arrange the slices in a single layer on a nonstick baking sheet. Bake for 20 to 30 minutes depending on the size of the beets until the slices are crisp. (Remember to keep an eye on the beets as they can easily burn.)
Allow the beets to cool on the baking sheet. When cool, these can conveniently be separated into individual portions and transported in plastic baggies for kids on the go. Also consider baked pita which Correale says is a "yummy, chip-like snack that goes great with hummus," and while guacamole can be messy, "for a non-messy alternative, layer baked chips and guacamole into parfait cups. This way everything is contained within individual cups."
Finally, her recipe for yogurt-based ranch dressing gives kids the ranch taste they love without all the excess fat found in a typical bottle. To make the dip: combine two cups of plain yogurt, one-fourth a cup mayonnaise and half a teaspoon each of garlic powder, onion powder, celery leaves and salt, as well as two tablespoons of fresh chopped parsley. Mix well and allow it to marinate several hours or overnight. If serving at home, fill up small cups a quarter of the way with dressing and dunk them in fresh veggie sticks.