Halloween candy hitting shelves in August, and shoppers aren't happy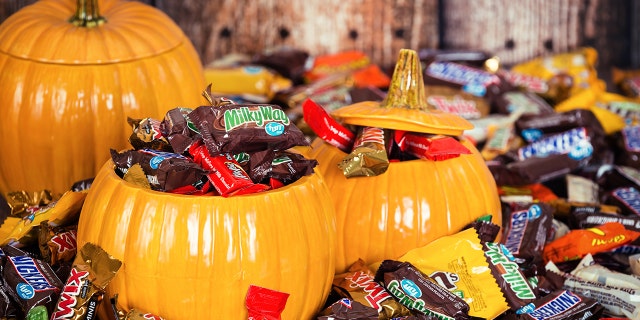 NEWYou can now listen to Fox News articles!
Bidding summer goodbye is never easy, but one particular reminder never fails to irritate shoppers: the invasion of Halloween treats and pumpkin spice in stores everywhere, months before the holiday.
Lately, it seems impossible to step into a convenience store or supermarket without being blinded by orange displays of Halloween candy, and shoppers are taking notice.
"It's 85 degrees out, some humid days to come," joked shopper John Wahl. "I don't want pumpkin beer yet."
KIND SNACKS DUMPS 50,000 POUNDS OF SUGAR IN TIMES SQUARE TO PROVE A POINT
Food marketing expert Dr. Sean Coary of St. Joseph's University studied the effect that Halloween marketing has on shoppers, and said that the logic behind the early arrival of Halloween candy affects buyers in three ways. First, it's used to get people excited for the holiday. It also presents an "element of fear" that guilts parents into purchasing items for their children. And finally, it sets off "mindset flags" that alert consumers of the season's items.
Though shoppers can't fight the influx of sweets, they don't need to support it. Sarah Smiley of the Bangor Daily News and mother of three voiced the frustrations of parents everywhere when she stumbled upon a Halloween display as early as August 1.
WOMAN FIRED FOR EATING COWORKER'S CHOCOLATE GETS JOB BACK MONTHS LATER
"The worst part is that all of this creep is meant to secure more of your dollars. No store wants to take a chance on you seeing Halloween's offerings at another location first and spending your money there," she wrote. "So they try to beat each other to your wallet, while you're just trying to enjoy summer with your family."
Across the country, people with similar opinions took to Twitter to voice their shock and surprise with the wildly early arrival of Halloween candy this year.
While such early seasonal offerings may seem ludicrous to some, it sounds like perfect timing to others. According to the National Retail Foundation, each year about 40 percent of consumers begin their shopping for holiday gifts before October 31.
FOLLOW US ON FACEBOOK FOR MORE FOX LIFESTYLE NEWS
Realistically, anyone stoking up nine weeks in advance will be tempted to dig in long before All Hallow's Eve, and return to stores for more.
Now that we've been rudely awakened by the candy invasion, one notable trend has promise as the new flavor of the season: Inspired by cookie-lovers everywhere, M&M's Cookies & Screem and Brach's new Cookie Candy Corn are en route to shelves near you.