Häagen-Dazs Japan debuts vegetable flavored ice cream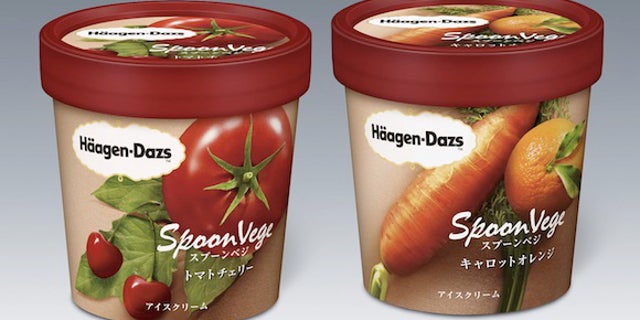 We've seen some pretty crazy dairy treats lately – from Viagra ice cream to Jellybean Milk.
But this summer, Häagen-Dazs is debuting a new product that seems to confuse dessert with a salad course.
Introducing "Spoon Vege," a line of vegetable flavored ice cream making its debut in Japan next month. The two flavors to start the trend? "Tomato Cherry" and "Orange Carrot."
So, what will they taste like?
A translated press release states that "Tomato Cherry combines the natural sweetness of tomato with the fruity flavor of cherry, which should accentuate the rich taste of the tomato." While Orange Carrot "takes the gentle flavor of carrot and adds to it the fresh citrus taste and scent of orange, giving the carrot a sophisticated and refreshing twist."
According to Japan's Rocketnews24, the new line will contain only 8.5 percent milk fat – which is just over half the milk fat content of most traditionally flavored Häagen-Dazs ice creams, so it is actually a bit healthier. The company is currently running a promotion through its Facebook page for a chance to win free samples.
If you just can't wait to taste some, smooth creamy vegetables, American dairy company Blue Hill has a range of vegetable flavored yogurts. Their offerings have an even more exotic range with flavors like Beet, Parsnip and Butternut Squash.
"Spoon Vege" is set to hit Japanese marketplace shelves on May 12. Rocketnews24 is reporting that both flavors will be available in 100 ml cups priced at about $2.80.