Guy Fieri Wants Parents to Cook With Kids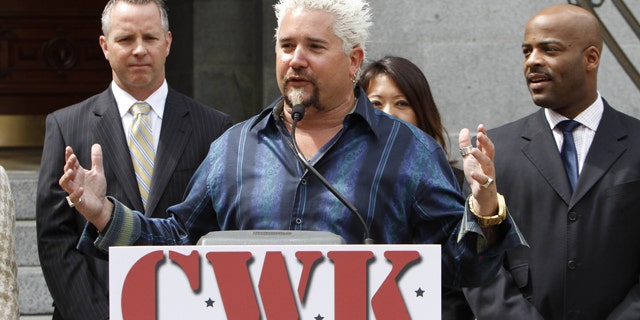 SACRAMENTO, Calif. – Guy Fieri was back on the road Monday, this time not to find hole-in-the-wall eateries but to support California politicians telling parents to cook with their children every Sunday.
Standing outside the state Capitol, the celebrity chef lamented the rise of drive-thrus and microwave dinners in place of sit-down, home-cooked meals.
Fieri, known for his boisterous style in the Food Network's "Diners, Drive-ins and Dives," said that by making cooking a shared activity, parents could bring their families closer together and encourage healthy eating habits in children.
"Let them stand there and work the saute pan, let them do the plate up, let them deliver it to the family," said Fieri, sporting his trademark platinum blond hair, cowboy boots and sunglasses worn on the back of his head. "Start them off slow. Educate them as you go."
He went on to visit the state Senate, which adopted a resolution urging the weekly meals, as well as the Assembly, where the resolution now awaits action.
The resolution by state Sen. Anthony Cannella, R-Ceres, follows a 2008 initiative that Fieri helped draft to label the second Saturday in May "Cook With Your Kids Day."
Fieri owns several restaurants in California and hosts two shows on the Food Network and the NBC game show "Minute to Win It."