Grilled cheese sandwich goes haute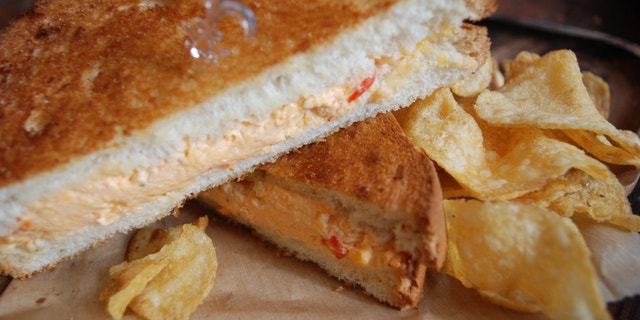 If you've noticed a spate of amazing looking grilled cheese sandwiches in the blogosphere these days, you can chalk it up to April being National Grilled Cheese month. But the obsession for one of America's comfort-food favorites will certainly live beyond this month, as this lunchtime entry is going from hot plate to haute plate.
It started with the rise of mac n' cheese more than a decade ago with chefs dotting the family-friendly dish with truffles, imported cheeses, and all other bits and bites of grandiose gourmet flair. After that, the oven mitts were off on the comfort food craze. We've seen corn dogs, pot pies, sliders, pizza, and even hot dogs go from carts and counters to chef's tables and tasting menus.
But then again, the seemingly simple combination of good bread and good cheese sort of begs to be played with. And while many of us still cling like melted Velveeta to our childhood favorite, there's a grilled revolution on the rise and it may well be coming to a menu near you.
"I think it's the novelty – like burgers or fries or anything very American," says chef David Guas of the Bayou Bakery in Arlington, Va., whose menu features a regional version of grilled cheese that harkens back to his own childhood growing up in Louisiana. "It's the comfort aspect. It's one of those things mom used to make for you with soup when you're sick. To do gourmet variations is popular."
But Guas thinks says the recent economic downturn might be part and parcel to its surge in popularity. "It's even about going back to the Depression and getting good ol' government cheese. I see it on menus now as a sort of joke here in D.C."
But the rampant spread of the good, old bread-and-cheese combo is no joke as of late. In fact, National Grilled Cheese month culminates in the 10th annual Grilled Cheese Invitational at the Rose Bowl in Pasadena, Calif. on April 28. From coast to coast, myriad versions with regional personality are popping up everywhere.
The food truck craze has been especially friendly to the midday treat, with on-the-fly purveyors like Los Angeles's Grilled Cheese Truck or New York's Food Freaks, a bright and beckoning golden mobile station parked on the Dekalb Avenue side of Fort Greene park that offers such stop-in-your-tracks like the Arthur Avenue (fresh ricotta mingled with fresh mozzarella, sliced sopressata, and red pepper jam) as well standard cheese and bread versions. Well, that's if you consider standard selecting from fontinella, fresh mozzarella, gouda, or gruyere on artisanal bread with special dipping options like cilantro mayo or agave mayo.
Guas won't pull the heart strings with stories about his family's matriarchs and their way with a pan-fried bread and dairy products, but his unique version – Texas Toast Grilled Cheese – does come from the gooey kid-stuff of yore – pimento cheese.
"It's something that I grew up around. Not something that my mom or grandmother made per se, but it's definitely an extremely recognizable cheese spread in the South," he says. And that was reason enough for Guas – who often peppers his menu with regional delights – to create a grilled-cheese version at his southern-tinged eatery. Although he did have to tinker with it a bit.
"I had to adjust it because pimento cheese is usually served as a snack with Triscuits," which he serves at Bayou as an appetizer as well. But because the cheese is a mix of cheddar and cream cheese, he had to figure out how to get the melting point just right.
"We don't allow the bread to heat up so much so that the cheese doesn't break down entirely, so we use less cream cheese -- 10 percent to 90 percent New York sharp cheddar. And in season, we roast fresh pimentos. Otherwise, we roast red bell pepper. Then we spread a little mayo on it to create flavor and to achieve the right spreadable consistency."
After that, the sandwich gets a little dice of sweet Vidalia onion and seasoning of salt, pepper, and a pinch of cayenne. The bread is then brushed with melted butter and the whole kit and caboodle goes in Guas's turbo oven for a quick, hot full-on sear.
"You get the sweetness of the onion, the sharpness of the cheddar, the smokiness from the peppers, a just a touch of heat from the cayenne that creeps up." You know, just like mom used to make.