Fox Foodie's Complete Holiday Entertaining Guide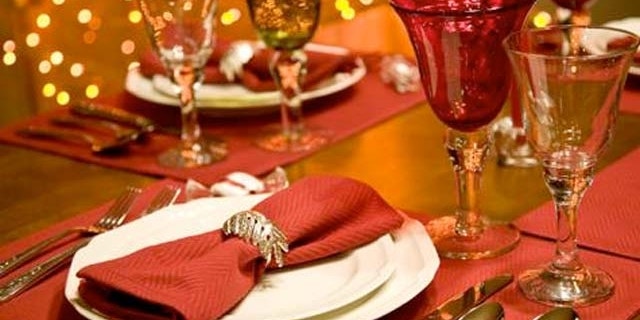 If you haven't begun to start planning for your big holiday meal, I have some disappointing news: you're running out time, for real now. As much as this may be a shock, the reality is that Santa and his magical elves are not going to swoop down and deliver a full-course meal, ready to eat. The time has come. It is time to concentrate on what you're going to present to your guest this holiday season. If you are still searching for ideas, or if time and money are a factor (isn't it always?), bring the scourge of the procrastination demons, never fear.
The Fox Foodie family has joined forces with our favorite culinary experts to create a complete holiday A-Z entertaining guide -- on a budget, no less. From ideas for elegant no-cook appetizers, to simple main-course recipes that are guaranteed to wow, to decadent desserts --even suggestions on the best festive cocktails (or mocktails if you don't want Grandma under the table). Also included are helpful shortcuts, useful cooking tips and presentation ideas. Now sit back and relax because now you have everything you need to present crowd-pleasing fare to your crowd.
Enjoy the season and Happy Holidays from the Fox Foodie family.
Menu
Appetizers
Crockpot Spinach and Artichoke Dip
This artichoke dip is sure to be a crowd pleaser at your holiday party, and doesn't waste precious oven space.
Savory Veggie Dip
With just three ingredients, this delicious dip is super easy to make. Serve with celery, cucumber, carrots, or crackers.
This baked brie is an easily customizable appetizer. Change up the nuts and jam for a few different options on your holiday table.
Quick Breads
Make a sweet breakfast bread starting with 2 (1-pound) packages of refrigerated pizza dough and adding cinnamon, sugar and butter.
Muffin cup capacity will vary depending on pan manufacturer. Yield may increase if smaller muffin cups are used.
Sour Cream Muffins with Poppy Seed Streusel
Keep these orange-scented muffins around during the holidays for a quick breakfast or sweet snack.
Main Course and Sides
Pork Tenderloin Sandwich Rolls with Balsamic Glaze and Figs
The perfect main course for a holiday party. Serving them on a roll allows you to prepare them ahead of time and allows your guests to take their food and mingle.
The coffee and chili powder add a nice earthly aspect that compliments and enhances the bold, beef flavor of the rib roast. Have your butcher prepare the prime rib with the fat cap still attached.
These potatoes have a slightly crisp, chewy skins and a rich, creamy filling. The perfect side dish to any beef entrée.
Red Rice is a Southern holiday tradition. Made with bacon, it's a hearty, stick-to-your-ribs starch that compliments any meal.
Desserts
Pumpkin Gingerbread Cake with Spiced Buttercream
This holiday desert combines two of our favorite fall flavors - pumpkin and ginger.
A homey comfort classic made special with a dusting of sugar and a hidden filling of apples and nuts.
Individual Spiced Chocolate Molten Cakes
These individual Spiced Chocolate Molten Cakes look like Martha Stewart catered your desserts, but are easy enough for any novice baker to execute.
Cookies and Cakes as Gifts
The classic holiday flavors, peppermint and chocolate, are combined into one delicious dessert, making these peppermint bark cookies a seasonal favorite.
Dark Chocolate Champagne Cupcakes
These cupcakes don't taste overwhelmingly like champagne, but the addition of the bubbly makes them incredibly light and moist. They're so pretty they will fit right in at your New Year's Eve party.
These cookies are also known as Mexican wedding cookies, butternuts, butterballs, and snowballs. You can just pop them in your mouth, but you'd better not be wearing black.
Beverages
Non- Alcoholic Drinks
Try this recipe for the perfect holiday punch to serve your guests.
This apple punch will warm up any holiday party.
Cocktails
Glögg is a type of mulled wine favored in Nordic countries like Sweden and Iceland. It is usually made with red wine, sugar, spices such as cinnamon, cardamom, ginger, cloves and bitter orange.
A touch of sweet raspberry liqueur merges with peppermint schnapps and crème de cacao to deliver a mouth-watering winter concoction.
The gingerbread house is a combination of luxurious chocolate, ginger, and two warm and spicy sweet ginger liqueurs that can turn even the most Grinch-like dad into the next George Bailey in less time than it takes to put together the Legos under the tree.
Wines
Selections include a classic Champagne, a Napa Valley Cabernet Sauvignon and a dessert wine from Chile. With prices starting at $9, these bottles won't break the bank either. "Cheers?"
Tips for the Chef
We put together a list of the top holiday baking blunders and the best ways to keep the Grinch out of your kitchen.
Nicolas O'Connor, head mixologist at Apotheke cocktail bar in New York City, gives some tips to help even the most inexperienced bartender harness this creativity and expertise, and to mix holiday cocktails like a pro.
Here are some handy hints from the pros on what to serve, how to serve it, and where you can save.
Tips to Keep Your Kitchen Humming for the Holidays
We impart a few easy tips for keeping things humming—and toasting, and whirring, and chilling—along, so the heart of your home is ready for anything, come what may.