Fox BYO: Drink Up With Dad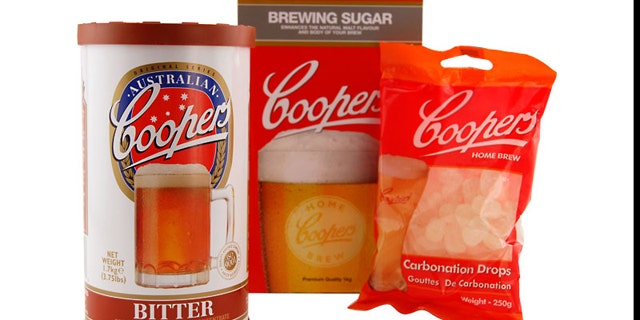 Dads are tough to buy for. That's why they often get stuck with ties, cologne, and oddly shaped handmade ash trays. But the Fox BYO is here to help with gift ideas customized to the tastes of a variety of types of fathers found across the country. After all, dads work hard – don't they deserve a drink on the one day of the year that's devoted to them?
The DIYer – Some dads are driven to do everything themselves. From building a house to rebuilding an engine block, if it didn't spring forth from his hands, he doesn't want it. So what better way to reward him for his efforts than a chance to make his own beer? Cooper's Complete Homebrew Kits have him covered regardless of what style beer he enjoys most. Best of all, he'll get to learn how to do something new and buy new tools and equipment to do it with! Available at brewgadgets.com, the prices vary depending on the style of beer.
The Man of Leisure – Whether retired or just a big fan of the weekend, some dads need a lot of down time. Relaxing in a hammock or just snoozing the day away on the deck would be a heck of a lot better with a mint julep in hand and a stainless steel straw to help keep the precious liquid cold on its long journey from glass to mouth. Get them at Kegworks for $2.25 a piece and mix up a mint julep for your old man.
Mint Julep
3 oz bourbon
4-6 sprigs mint
1 oz simple syrup (or more to taste)
Add some crushed ice and mint to the bottom of a tall glass and muddle. Let stand for a few minutes to allow the mint to release its oils. Fill the glass the rest of the way with crushed ice and add the bourbon. Stir well and allow your dad to enjoy an afternoon at peace.
The Gourmand – Some dads are master chefs in their own right, picking only the finest ingredients and turning them into unbelievable meals for their families. Others are bloodhounds when it comes to sniffing out the most amazing new restaurants. Either way, they'll appreciate having a bottle of a spirit being distilled for the first time in 40 years. At $45 Crème Yvette is cheaper than foie gras and will last longer too. It's made from a mixture of berries and dried violet petals and is key to a number of classic cocktails. Generally used in small amounts as an accent liqueur, it's lightly sweet and offers floral overtones that pair incredibly well with gin, as in this classic cocktail:
The Blue Moon
2 oz. dry gin
1/2 oz. Crème Yvette
1/2 oz. fresh lemon juice
Pour all ingredients over ice in a cocktail shaker. Shake vigorously and strain into a cocktail glass.
The Patriot – There's only one spirit to suit the man who bleeds red white and blue; America's native spirit – bourbon. And for a man who has devoted his life in service to his country, it has to be a bourbon with an impeccable pedigree. Aged 15 years, and named after the country's third president, Jefferson's Reserve bourbon is made in small batches and has an incredibly complex flavor. Toasted corn, caramel, raisins and vanilla dominate the flavor and aromas of vanilla and almost candy-like butterscotch are almost overwhelming. The rich bourbon warmth is there, with a lingering finish that's almost reminiscent of cognac. Made to be sipped neat with perhaps a splash of water, no true American could turn up his nose at this. At $60, it's not cheap, but dad deserves the best.
The Executive – This is a dad used to getting his way. But modern corporations frown on the desk-side bar and working so much means he may not have time to enjoy the finer things in life. And what could be finer, and more traditional, than a martini? Gin is the original martini spirit, but the '80s martini lunch began and ended with vodka. If it was good enough for the Reagan-era, it's good enough for the savvy businessmen of our time as well. 360 Vodka is pitched as an eco-friendly premium vodka, distilled with local grains and filtered with coconut shells rather than charcoal, using what the company calls a low-energy filtration system. It's smooth, with little of the typical vodka burn, making it well suited for inclusion in a typical martini. Plus, if the executive dad in question works for BP he'll be able to feel just a little bit better about his impact on the environment.
The Classic Martini
2 ½ oz. vodka
? oz. dry vermouth
dash orange bitters
Fill a shaker with ice and pour in the vodka and vermouth. Stir until well-chilled and strain into a cocktail glass. Add the bitters and garnish with an olive or cocktail onions if so moved.
The Outdoorsman – Portability is key for this dad, as even on Father's Day he'll likely be out fishing, hiking, or otherwise on the move. Since bars aren't particularly mobile, give him the chance to take his favorite tipple with him in a flask, but not just any flask. An experienced woodsman needs a container that can keep up with him, and has the same rugged good looks and impressive durability. The Mulholland Leather 10 oz. Sportsman's Flask will do the trick nicely. At $80, it's a little bit of a splurge, but it'll last out in the wilderness as long as he will. And because it comes with 2 stainless steel shot glasses, dad might just invite you along for the trip.
The Life of the Party – Some dads just never outgrow the beer bong. Luckily, they're fairly easy to buy for. A bottle of tequila will bring a smile to his face faster than he can say "Let's do shots!" Yeyo Silver is a new ultra-premium tequila that's smooth and has a distinct citrus aftertaste that makes it particularly tasty for shots. At $47 it's not an everyday buy, but dad doesn't party as hard as he once did, so it ought to last him a while, especially if he mixes it into batches of some classic margaritas.
Margarita
1 1/2 ounces tequila (blanco, 100 percent agave)
1 ounce freshly squeezed lime juice
1/2 ounce Cointreau (not Triple Sec)
Fill a low glass rimmed with salt with ice and pour in all the ingredients. Stir gently until chilled.
The Man Who Has Everything – Some guys have all the luck. Not to mention the money, the prestige and all the toys they could ever want. So what can a dutiful son or daughter get them that they don't already have? The Glenlivet Cellar Collection 1973 Single Malt Scotch Whiskey. With only 240 bottles available in the U.S., this scotch spent 36 years in a cask and is nearly flawless. Complex, with orange, sherry and clove on the nose and a delicious creamy orange zip and caramel flavors fading into racy warmth in the back of the throat, it's like nothing you, or your dad, have ever drank before. There really aren't many better ways to spend $1,250.