Former 'Top Chef' star plans controversial Biggie & Tupac rap rivalry dinner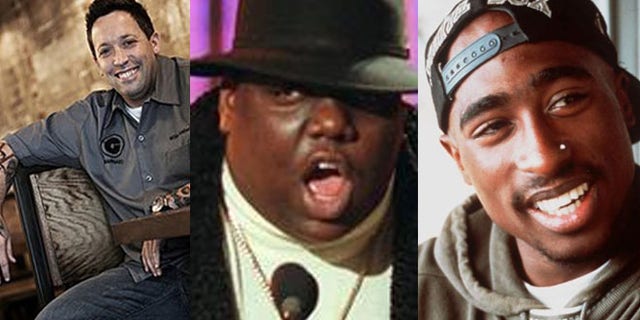 Despite drawing criticism over the weekend, former "Top Chef" star Mike Isabella and owner Washington, D.C.'s Graffiato restaurant says he's going ahead with a rap rivalry-themed tasting menu.
Isabella's "East Coast vs. West Coast: Biggie & Tupac Tribute Dinner" --scheduled for Feb. 2 at $65 a plate --features dishes with names like Thug Rice and Blood Money sausage --which some criticize as bad choices amid heightened racial tensions following the Eric Garner and Michael Brown cases.
Isabella said the dishes honor legendary rappers Tupac Shakur and Biggie Smalls, the two famously feuding rappers who died within six months of each other--each killed in drive by shootings.
"I grew up listening to Tupac, Biggie and other hip hop artists in the 90s. To this day, their music is still some of my favorite," Isabella said in a statement to FoxNews.com.
After the Washington City Paper reported on the menu's release, Isabella was blasted on social media for being "culturally insensitive." His dish, titled Thug Rices seemed to draw the most ire from commenters.
The original menu, which has since been pulled from the event's page of Isabella's restaurant, featured other items like Lil KimChee and a Cali-Cali Cobb Salad with Wu-Tangy dressing. For dessert, Milk Chocolate Chip Blunts with a Carnival Zeppole and Coke Floats were listed as choices.
But Isabella defended his menu choices.
"The dinner will feature classic east and west coast dishes set to music from these two greatest hip hop artists. The menu descriptions are a play on song titles and song lyrics," he said.
Despite reports that the dinner may be cancelled or postponed, Isabella's spokeswoman Jennifer Resick Williams told us that the event will go on and is, in fact, sold out. The menu was only temporarily removed so the chef could make adjustments to the dished. Resick Williams says that the menu it will look different from the original, but did not give details.