Foods you can make with snow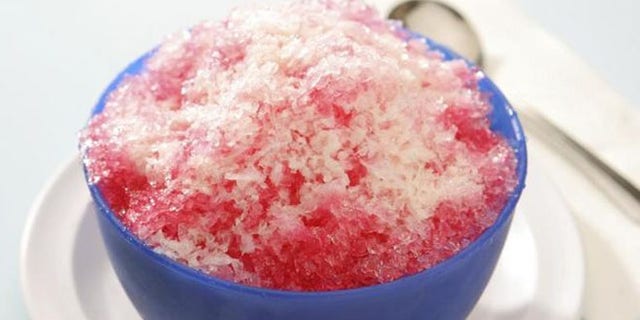 If you're in the parts of the U.S. that may see historic snowfalls this weekend, you might be wondering what to do with all the white stuff.
Here's an idea: Why not cook with it? Yep, it turns out that snow may be nature's most versatile ingredient.
When it comes to recipes, we're not just talking snow cones here.
Check out some of favorite recipes with snow -- but just remember avoid any yellow patches.
1. Maple Syrup Snow Taffy
The Canadians know a thing or two about snow so leave it to them to have created one of the most unusual -- and fun -- snow day treats around. To make these maple syrup taffy lollipops, heat up some syrup like you would with candy, pour over snow and watch the magic happen. Some choose to roll their taffy strands onto sticks, others just pick it off the snow with sticky fingers. Delight kids and dinner guests with this relatively simple sweet.
2. Snow Pancakes
Folding snow into pancake batter will give you a light and fluffy result every time. This recipe from Katherine Grossman, aka Granny Miller, looks pretty simple -- but the key is to gingerly fold the snow into the batter. Also, these pancakes are baked not fried. and remember the fresher the snow, the better the pancake.
3. Snow Ice Cream
There are a lot of variations on this classic recipe but the end result should be a smooth, creamy cold treat that closely resembles regular ice cream. Whether you use heavy cream or milk or real sugar or Truvia, kids or all ages will have fun whipping up this fluffy stuff.
4. Slushy Snow Margarita
If you're stuck without power, it's safe to say you deserve a cocktail. Simple to make, these frozen margaritas will have you dreaming of warmer times. If you're more of a daiquiri fan just substitute the lime and tequila for a little strawberry juice and rum.
[youtube XhntMdlr1jE]
5. Beer Snow Cones
Slushy beer doesn't usually sound very appetizing but this unusual recipe will have you thinking twice about this adult beverage. Take advantage of sub-zero temperatures and let Mother Nature do the work instead of taking up room in your freezer. This might be one of the most unusual snow cone recipes we've ever so have fun knocking one of these back.
6. Snowball Cookies
Okay, so these adorable little cookies might not actually incorporate any real snow but if you're somewhere unseasonably hot, something reminiscent of a snow day might sound good right about now. This chef uses almonds, but these versatile, crumbly cookies can incorporate any type of nut you prefer. Dusted with fine powdered sugar, this little balls are almost too pretty to eat.