Following scathing review, NY Times held a party at Guy Fieri's restaurant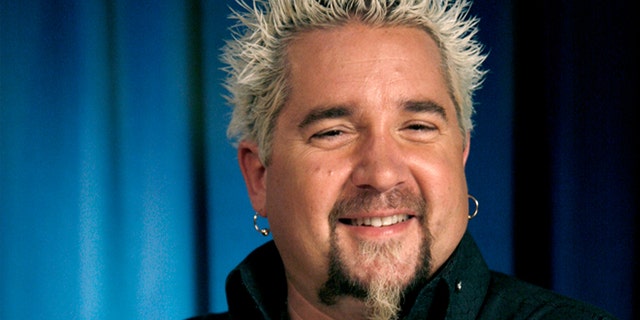 New York Times food critic Pete Wells may not have found the food at Guy Fieri's new restaurant worth eating, but it was apparently good enough for others at the newspaper.
The New York Times confirmed to FoxNews.com that the very day that Wells' scathing review was printed in the paper's Dining and Wine section, the New York Times held a party at Guy's American Kitchen and Bar.
"The New York Times ad sales department hosted an event for clients last night at Guy Fieri's restaurant. The event was planned two months ago," Danielle Rhoades Ha wrote in an e-mail. She would not say what dishes or drinks were served or other details.
Wells blasted Guy's American Kitchen & Bar in a scathing review that posed a list of rhetorical questions directed at Fieri that included zingers like, "And when we hear the words Donkey Sauce, which part of the donkey are we supposed to think about?" And "Is this how you roll in Flavor Town?" The review also suggested that Fieri didn't even set foot in the place.
Wind of the New York Times party first came about after Fieri appeared on the "Today" show Thursday to defend his new eatery, which opened in New York City in September. NBC brought in a panel to discuss the review, which included Star Jones, Donny Deutsch, and Dr. Phil.
Dr. Phil, when defending Fieri saying that Wells' piece was mean-spirited and self-serving, he let this slip: "And by the way," he added, "last night, they hosted — the New York Times hosted a 160-person party at that restaurant."
Calls made by FoxNews.com to Guy Fieri's representatives and his American Bar and Grill have not been returned.
But Fieri told "Today's" Savannah Guthrie, that Wells' piece was "ridiculous." "I mean, I've read reviews - there's good and there's bad in the restaurant business, but that to me went so overboard, it really seemed like there was another agenda," he said.
He also suggested that the review was more than just about the food.
"To me it's impossible to have a dining experience and have every single thing wrong -- unless you come in with a different agenda and you want to sensationalize something and you want to blow it out of the water. It's a great way to make a name for yourself! Go after a celebrity chef that's not a New Yorker," he said.
Reaction to the review has been mixed, with some food critics saying that it is "the most brutal restaurant review ever," while others claiming it is "probably one of the best things" ever.