Florida officer claims anti-cop McDonald's worker refused to serve him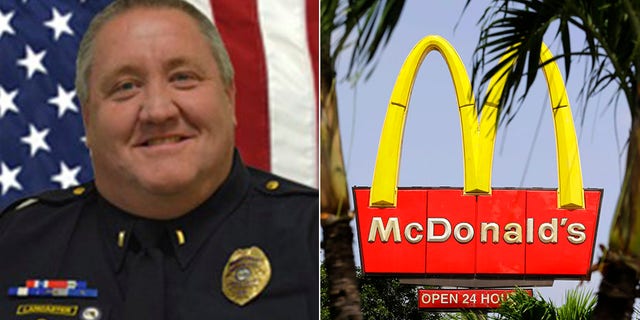 A Florida police officer who claimed he was ousted from a McDonald's drive-thru on Friday for his profession said he was "shocked" and "disappointed" at how the fast-food worker treated him.
Lt. Tim Lancaster, of the Palm Bay Police Department, wrote on Facebook that on Feb. 9 he ordered lunch at a McDonald's in Palm Bay. He paid for his meal at the drive-thru's first window, and drove to the second window to pick up his food.
Lancaster, a 23-year veteran of the force, stated that once he got to the second window — while decked out in a "full uniform and [inside] an unmarked car" — the employee "looked at me with my drink in hand and stopped."
The McDonald's employee, according to Lancaster, handed his drink to another employee and "walked away in disgust." The employee told Lancaster that the clerk who dissed him doesn't serve cops.
"I was embarrassed and upset," Lancaster wrote, adding he brought the issue to the restaurant's general manager, who said he'd address the situation.
Lancaster's post — in which he said he stated he "will never eat at a McDonald's again" — has been shared almost 6,000 times.
"I never thought I'd be at a point in my career when I'd see something like this," the officer told Florida Today. But, he also said he thought McDonald's would handle the situation "appropriately."
OFFICERS KILLED IN THE LINE OF DUTY IN 2018
A McDonald's corporation spokesperson told the news outlet that the company had "respect for all first responders" and was looking into the incident. "The behavior described in this Facebook post is unacceptable and not tolerated in our restaurant," the spokesperson added.
It would not be the first time a fast-food worker gave police the cold shoulder -- far from it.
A McDonald's employee at a Virginia restaurant was fired in July for not serving a police officer. The officer's wife told "Fox & Friends" the employee told her husband: "I ain't serving no police."
In August, a Dunkin' Donuts worker at a New York City store reportedly told two NYPD officers that he doesn't "serve cops."
And, a Texas Whataburger employee who alleged that "cops beat up my boyfriend and are racist" was fired after she failed to serve two police officers.