Dunkin' Donuts to replace foam cups with paper by 2020, but not everyone is happy about it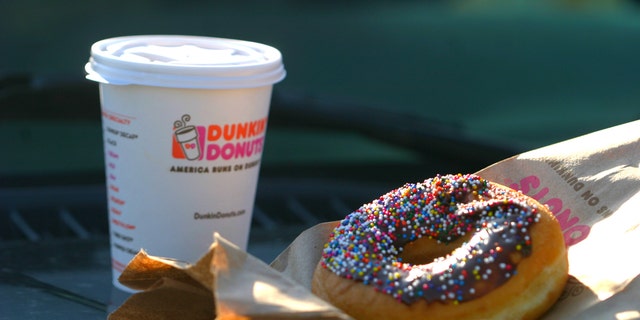 Dunkin' Donuts announced it would be switching from foam to paper cups by 2020 in an effort to be more eco-friendly, but not everyone is on board with the decision.
'HANGRY' IS OFFICIALLY A WORD IN THE OXFORD ENGLISH DICTIONARY
The coffee chain shared the news Wednesday, writing that over the next two years, all Dunkin' locations would transition from the polystyrene foam cups it currently uses to a new style of paper cup, which it claims is "more sustainable, while still keeping your beverages hot and your hands cool."
"The new, double-walled paper cup is already in use at Dunkin' Donuts' next generation concept store, which opened in mid-January in the company's birthplace of Quincy, Mass. It will be introduced at all Dunkin' Donuts restaurants in New York City and California in spring 2018, and will be phased in across the U.S. as supplier manufacturing capabilities ramp up," according to a press release.
Due to its negative impact on the environment, there has been a large push to ban the use of the foam material, which decomposes slowly, ends up in oceans and can harm marine life and other animals that ingest it.
While many are praising Dunkin' for this decision, others seem to care less about the environment and are more upset they won't have the foam cup to insulate iced coffees and keep hot liquids hot longer.
FOLLOW US ON FACEBOOK FOR MORE FOX LIFESTYLE NEWS
Dunkin' isn't the first large chain to replace foam with paper. At the beginning of the year, McDonald's announced it would be eliminating foam packaging from its worldwide supply chain by the end of 2018, along with news that it plans to further its efforts to source its "fiber-based packaging" from recycled sources by 2020.
The Associated Press contributed to this report