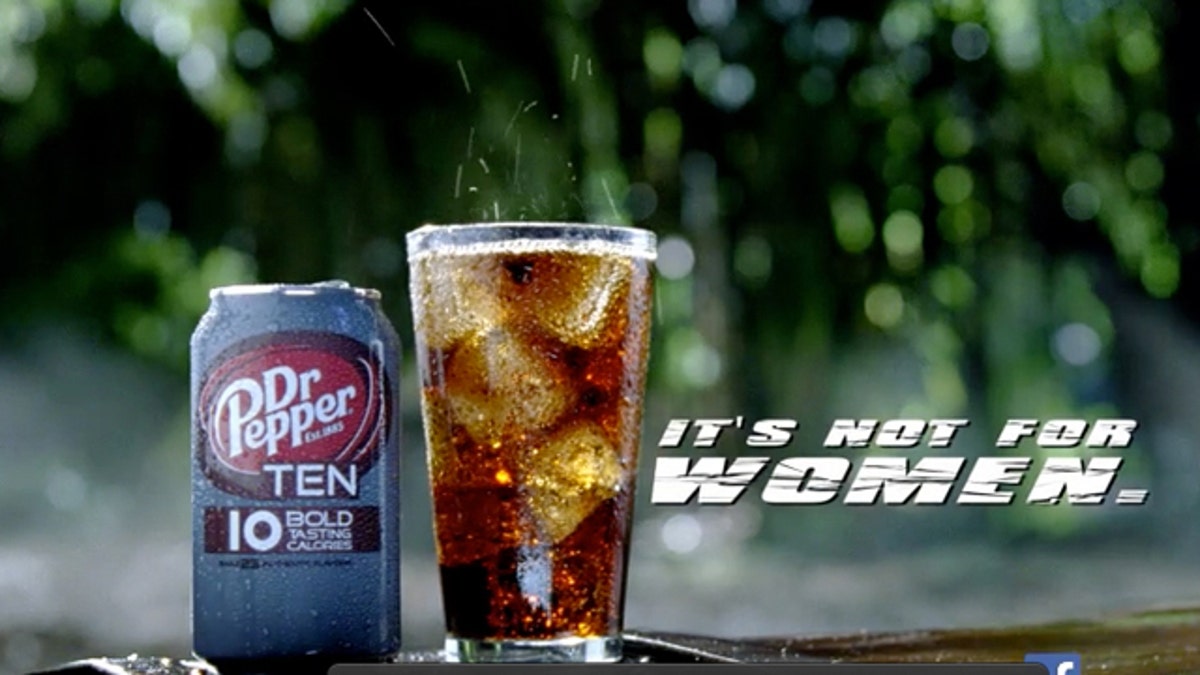 NEW YORK – Dudes don't drink diet.
Or at least that's the idea behind Dr Pepper Ten, a 10-calorie soft drink Dr Pepper Snapple Group Inc. is rolling out on Monday with a macho ad campaign that proclaims "It's not for women." The soft drink was developed after the company's research found that men shy away from diet drinks that aren't perceived as "manly" enough.
To appeal to men, Dr Pepper made its Ten drink 180 degrees different than Diet Dr Pepper. It has calories and sugar unlike its diet counterpart. Instead of the dainty tan bubbles on the diet can, Ten will be wrapped in gunmetal grey packaging with silver bullets. And while Diet Dr Pepper's marketing is women-friendly, the ad campaign for Ten goes out of its way to eschew women.
For instance, there's a Dr Pepper Ten Facebook page for men only. And TV commercials are heavy on the machismo, including one spot that shows muscular men in the jungle battling snakes and bad guys and appear to shoot lasers at each other.
"Hey ladies. Enjoying the film? Of course not. Because this is our movie and this is our soda," a man says as he attempts to pour the soda into a glass during a bumpy ATV ride. "You can keep the romantic comedies and lady drinks. We're good."
Dr Pepper Ten is not the first diet soda aimed at men. (Think: Coke Zero and Pepsi Max.) But Dr Pepper Ten's ad campaign is the first to be so overt about courting mween men and women, particularly if women are excluded," said Deborah Mitchell, executive director for the Center for Brand and Product Management at the University of Wisconsin School of Business. "That will always get someone's attention."
As for whether the ads will resonate with men remains to be seen. Paul McDonald, 25, who works in green energy contracts in Berkley, Calif., says he drinks soda labeled "diet" and doesn't think there is any stigma attached.
"No one has ever made fun of me for drinking a Diet Coke, and I'm on a rugby team we make fun of each other for everything," he said.
And women? Jim Trebilcock, executive vice president of marketing for Dr Pepper, said he's not worried that they'll be offended by the campaign. The drink and marketing were tested in six different markets across the country before being rolled out nationally, and women weren't offended, he said. In fact, about 40 percent of people who have tried the soda so far are women.
"Women get the joke," he said. "`Is this really for men or really for women?' is a way to start the conversation that can spread and get people engaged in the product."