Dominique Ansel reveals latest pastry mash-up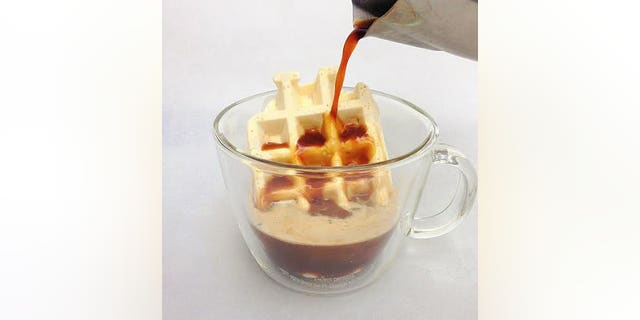 From the man who brought us the world famous Cronut and chocolate chip cookie Milk Shot, comes the Waffogato.
Pastry chef extraordinaire Dominique Ansel has just revealed his latest creation- vanilla flavored ice cream with tapioca balls and pieces of real Belgian waffle swirled inside (presented in the shape of a waffle)- all topped with a maple syrup espresso.
Unlike a traditional Italian affogato, the creamy dessert is meant to be eaten with a spoon, rather than drunk like a cup of coffee. Ansel told The Wall Street Journal that the dish was a nod to his childhood, inspired by memories of mother making him waffles for breakfast. The final result is like a morning themed milkshake.
"As the ice cream melts, little tapioca pearls are revealed and float in the melted ice cream espresso sauce," the chef announced via Instagram.
The dish will be available at Ansel's SoHo bakery on May 9 and will go for around $7, according The Wall Street Journal.
Ansel recently received a James Beard Foundation award nomination for Outstanding Pastry Chef. He prepared the treat for Wendy Williams and it looks like the unique flavor did not disappoint.