Despite Praise from Michelle Obama, Experts Say Charlotte BBQ is Far From the Best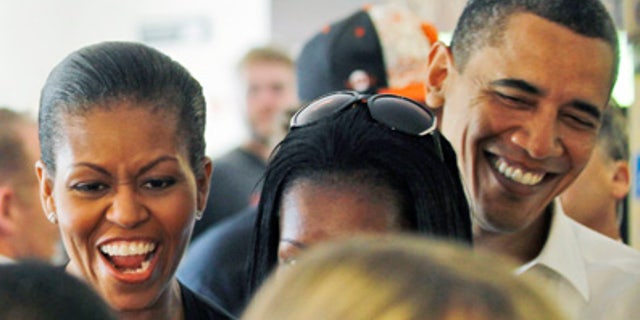 RALEIGH, N.C. – Everyone likes praise, but when first lady Michelle Obama listed "great barbecue" as one of Charlotte's virtues in hosting the 2012 Democratic National Convention, it was a tough chew for the state's slow-cooked hog experts.
Barbecue? In Charlotte?
One expert, John Shelton Reed, explained it in stark terms. He is a retired University of North Carolina professor and the co-author of "Holy Smoke: The Big Book of North Carolina Barbecue."
"Complete the sentence: As a barbecue town, Charlotte is one, not what it used to be; two, like Minneapolis for gumbo; three, good enough for Yankees; four, not far from Shelby," he said, referring to a barbecue center about an hour west of Charlotte.
Ouch. In North Carolina, this is serious stuff.
So serious that Jim Early eventually gave up his law practice to start the North Carolina Barbecue Society and remains its president, a keeper of true barbecue's rich, smoky flame. For Early, Charlotte's place in Carolina barbecue's hierarchy is beside the point: the real question is whether true, old-fashioned North Carolina barbecue is in danger of vanishing altogether.
The great apostasy started in the early 1970s, he said. Pitmasters and barbecue shack owners who had used wood and charcoal to smoke their chopped or pulled pork for decades began switching over to gas and electric smokers that are easier, cheaper and less work.
It's non-negotiable for him and other die-hards. Barbecue must be slowly cooked over wood or charcoal. Everything else?
"Roast pork," Early said. "People's palates were trained to the sauce, and when they stopped eating barbecue and started eating roast pork, they couldn't tell the difference because it was the same sauce."
Early reckons there are around 30 traditional barbecue joints left in North Carolina, two dozen of which are highlighted on the society's Historic Barbecue Trail, a mouthwatering, 500-mile pilgrimage for hog fans.
That leads to another point: North Carolina's great barbecue divide. The boundary runs roughly through Raleigh, the state's capital. Eastward to the coast, it's all Eastern-style: Whole hogs are cooked and served with a vinegar-based sauce and white, mayonnaise-based cole slaw. West of Raleigh, it's pork shoulders, with tomatoes added into the sauce or "dip," and vinegary red slaw.
The rivalry is polite, at least in mixed company.
"It's all about what you grew up with and what you're accustomed to," said Nathan Monk, manager of Lexington Barbecue and grandson of revered founder Wayne Monk. "There's good barbecue everywhere, as long as it's cooked the right way."
The town of Lexington, about 60 miles north of Charlotte, is to Western-style North Carolina barbecue as Rome is to Catholicism: more than a dozen barbecue joints make this a destination for 'cue lovers from Raleigh, Charlotte and everywhere in between.
Even the editorial board staff of The Charlotte Observer acknowledged Lexington's primacy, in a blog response to Michelle Obama's letter to supporters praising the local barbecue: "Everybody knows to get the best stuff, you gotta drive north to Lexington."
Down east, Wilber's in Goldsboro is so synonymous with Eastern-style barbecue that it's occasionally called Wilber's-style.
"Well, we try," manager James Summerlin said.
Like Early, Summerlin worries that barbecue cooked over wood or charcoal — Wilber's uses oak — is becoming a thing of the past.
"What we do is a lot more labor-intensive than just pushing a button," he said. "But if you start right, you end up with a good product."
Long hours of toil is one reason for the disappearance of old-fashioned barbecue, said Cyndi Allison Wittum, an instructor at Catawba College who has written about North Carolina barbecue. One pitmaster she knows starts cooking at 3 a.m. in time for the lunch crowd, then chops wood for the next day's fire.
"It's easier to be consistent if you're using gas," she said. "You just set the temperature. You don't have to stand by the fire for 10 hours a day."
Modern building regulations on the use of open flames and pits are another problem, Wittum said, along with the fact that few young people seem willing to put in the effort needed to become a proficient pitmaster.
"Most of the pitmasters I know are older guys," she said. "There's a dearth of young pitmasters willing to take over."
In the end, though, good barbecue is good barbecue, and the debate over cooking methods might be as much a matter of personal preference as the divide between East and West, said H. Kent Craig, author of "Kent's Carolina Barbecue Book."
There are plenty of great barbecue joints that don't use wood or charcoal, Craig said, noting that for true hardwood purists, charcoal is as much of a heresy as gas or electricity.
"The most absolute truth about any kind of barbecue is it's nothing more than one person's opinion," he said, "And who is to truly say in the end what is or is not the best kind of source heat to cook the holy grub with?"
___
Online:
North Carolina Barbecue Society: http://www.ncbbqsociety.com/