Denver beer makers create pro-women, 'Making Noise: Pussy Riot' beer ahead of Trump's inauguration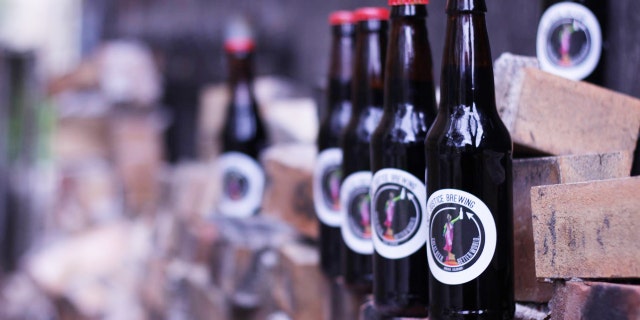 Female brewers in Denver, Colo. are taking a stand against oppression, sexism and anti-LGBT sentiments by collaborating to produce a series of craft brews that will be released leading up to president-elect Donald Trump's inauguration later this month.
The first batch of "Makin Noise: A Pussy Riot Beer" was produced on Dec. 28 at Goldspot Brewing. Kelissa Hieber, Goldspot's head brewer and one of the group's key organizers, told FoxNews.com that the goal of the project isn't about promoting anti-Trumpism (though she admitted to Westword that many felt "defeated" and "helpless" after the election) but rather to foster unity among likeminded individuals and beer lovers.
"Despite a kneejerk reaction to assume that an inauguration day release insinuates a protest to Trump, however our only desire for this beer to to insight a larger sense of community and to stand up against injustice," Hieber said.
"Bess [Dougherty, another organizer] and I wanted to use our art form of brewing beer to support some great local charities that are working to protect vulnerable communities in Colorado."
ARE BEER SALES DECLINING IN MARKETS WITH LEGAL MARIJUANA?
All of the "Making Noise" brews are imperial saison's that, according to Heiber, will pack a real punch with an ABV between 8.5 and 9.5 percent. And each of the five brewery's beers has a unique element. Goldspot's was brewed with strawberries; 3 Freaks Brewing's version features lavender; Black Sky's brew has peppercorns; Brewability has the Brazilian superfruit acai and Lady Justice Brewing will have Warrior hops, which are frequently used in stronger IPAs.
A portion of the proceeds will then be donated to local charities like One Colorado-- the Colorado branch of the ACLU-- Planned Parenthood of the Rockies, and Conservation Colorado.
The beverage's name derives from Pussy Riot, the Russian punk band known for their human rights activism.
"For me, this isn't about supporting or not supporting a candidate," Betsy Lay of Lady Justice told FoxNews.com. "Its about showing people that the brewing industry cares about its community."
Lay, who has been crafting beer since 2009, admits that while the beer industry is dominated by men, plenty of female brewers in Denver have been supportive and welcoming. When she first heard about "Making Noise" through Heiber's first call-to-action post on Facebook, Lay says knew she wanted to be apart of the effort.
BREWERY APOLOGIZES FOR 'DATE GRAPE' BEER, ADMITS RAPE CULTURE ISN'T FUNNY
The group's mission statement, first posted on Dec. 6 by Heiber, read:
We felt it necessary to take action and decided to use our art to make our voices heard. We are coming out in support of those most at risk in our community and doing what we can to stand together as a united voice against hate and intolerance. This beer works to combat the hate and oppression while also lending support and solidarity to the fight for equality. We believe in this beautiful community, and we feel it is necessary to work together to protect it. We believe in an America that celebrates its diversity, an America that protects and supports anyone regardless of sexual orientation, gender, identity, race, religious views or immigration status. We condemn the hate that has always existed against marginalized groups, and we will not stand for the new strong wave hitting our country.
In addition to the five main breweries involved, about 40 women, many of whom work as brewers or in other jobs in the craft brewing industry, have since joined the Facebook group and expressed interest in volunteering to bring each beer to fruition.
FOR THE LATEST FOOD & DRINK FEATURES FOLLOW FOX LIFESTYLE ON FACEBOOK
For now, the beers will only be available in the Denver area. Heiber says Goldspot and most of the breweries plan to release their brews to the public on inauguration day with special tap room tastings. They are also trying to get local bars and restaurants to join the cause. Colorado Plus, a brew pub and taphouse in Wheat Ridge, Colo., will be buying one keg from every brewery to do a tap takeover on Jan. 28, with proceeds going directly to the charity ProgressNow Colorado.
Says Lay, "Beer is an artform and to be able to collaborate with such an amazing group of women for a great cause has been really, really amazing."