Denny's 'nonsense' brawl causes $2,500 in damage, sends chairs and plates of food flying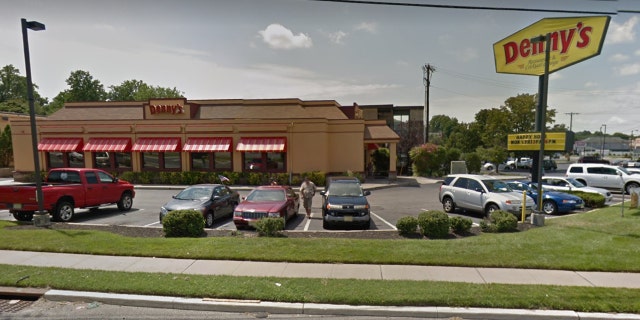 NEWYou can now listen to Fox News articles!
A full-fledged brawl broke out early Saturday morning at a Denny's in New Jersey, with 15 people causing over $2,000 worth of damage.
Video of the fight was posted to social media, which shows chairs, glasses and plates of food flying through the air as people yell and egg each other on. WARNING: Video contains graphic footage and language:
FRENCH GOVERNMENT SLAMS STORE THAT SPARKED NUTELLA RIOTS
Police arrived at the Vineland location around 3 a.m., but the majority of those involved had already fled the scene, The Daily Journal reports. However officers arrested 27-year-old Alexander Roman at the restaurant on an outstanding warrant.
It's unclear what started the melee, and authorities are still investigating, according to The Daily Journal. The local prosecutor's office posted about the incident on Facebook, calling it "nonsense" and asking for information to help identify those involved.
"It's unfortunate to the patrons at the restaurant, the owner of the establishment and to the community that individuals would behave in such a manner at a public establishment," the office wrote.
"No one in our community should be concerned that they may face this type of nonsensical behavior when they go out for a bite to eat. That is why we need your help to identify the individuals involved and prosecute them to the full extent of the law for criminal mischief," they added.
FOLLOW US ON FACEBOOK FOR MORE FOX LIFESTYLE NEWS
The owners of the restaurant, Robro Motel Corp., did not respond to The Daily Journal's request for comment. Damage was estimated to be around $2,500.