Deli facing backlash after co-owner called Las Vegas shooting 'community outreach'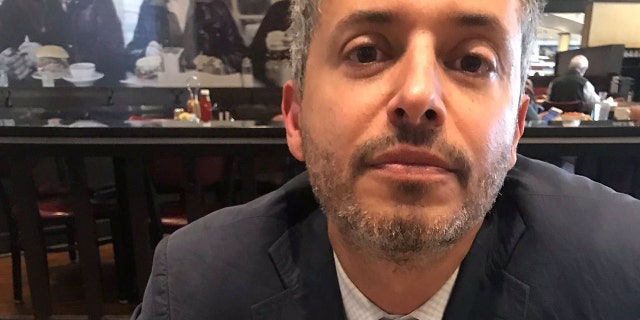 A Chicago-area deli is facing backlash after one of its owners sent out a tweet in response to the Las Vegas mass shooting, calling it "community outreach."
Greg Morelli of Max's Deli in Highland Park, Ill. said he felt "relief" when he heard about the shooting because it took place at a country music concert.
"Soon as I heard it was country music, I felt relief. White people shooting white people isn't terror … it's community outreach. #LasVegas," Morelli's tweet read.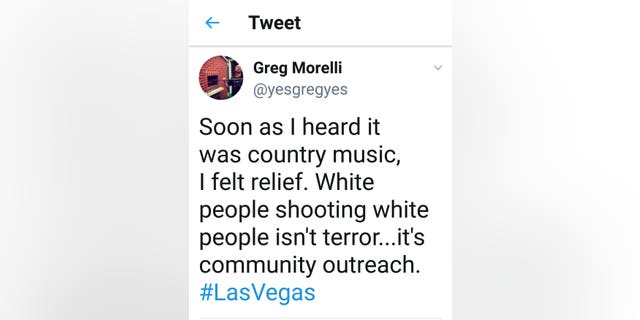 FLORIDA WHATABURGER SUED FOR 'ONLY WHITE' HIRING POLICY
The tweet, which has since been deleted, was posted Monday morning after news broke of the massacre in Las Vegas, where at least 59 people were killed and over 500 injured.
Both Morelli and the deli received harsh criticism because of the tweet, with people issuing death threats and leaving dozens of one-star reviews on Yelp.
One reviewer wrote: "The owner of this deli is a hateful, vile man who said the almost 600 ppl senselessly shot in LV deserved it."
People reacted on Twitter as well, calling for a boycott of the business.
"You are disgusting!! Hopefully the community reaches out to you and your business. Your hatred and bigotry does not belong in America!!" one Twitter user wrote.
Morelli took to Facebook Tuesday to issue an apology for his controversial tweet. "I own the words I wrote. They hurt people. I apologize," he posted on the deli's page.
"We live in a time of mass shootings. This is my mass apology … The thoughts have not worked. The prayers have not worked. What lead me to think Twitter was a good idea is beyond me. I simply do not know what to do about the shootings. Truly, I'm lost!" Morelli continued.
"I tried to participate. But all I did is put my foot in my mouth. These mass shootings have me freaked out. I'm sorry," he added.
The apology, however, was not well-received as Morelli had hoped, and Facebook users continued expressing their anger toward Morelli.
"Save your breath with the phoney 'apology,' Greggy," one user wrote.

FOLLOW US ON FACEBOOK FOR MORE FOX LIFESTYLE NEWS
"Thank you for giving me a reason to NEVER visit your establishment. You cannot undo what you have said and your apology is a nothing but a pathetic attempt to hide your true ugliness. Plain and simple — I Hope your employees all find other places to work and your business fails. SHAME," another person commented.
This controversy comes just over a month after Morelli faced criticism for sharing a cartoon on Facebook in which a man resembling Donald Trump can be seen wearing a Nazi armband, a T-shirt reading "I'm with Alt-Right" and giving a "Heil Hitler" salute.