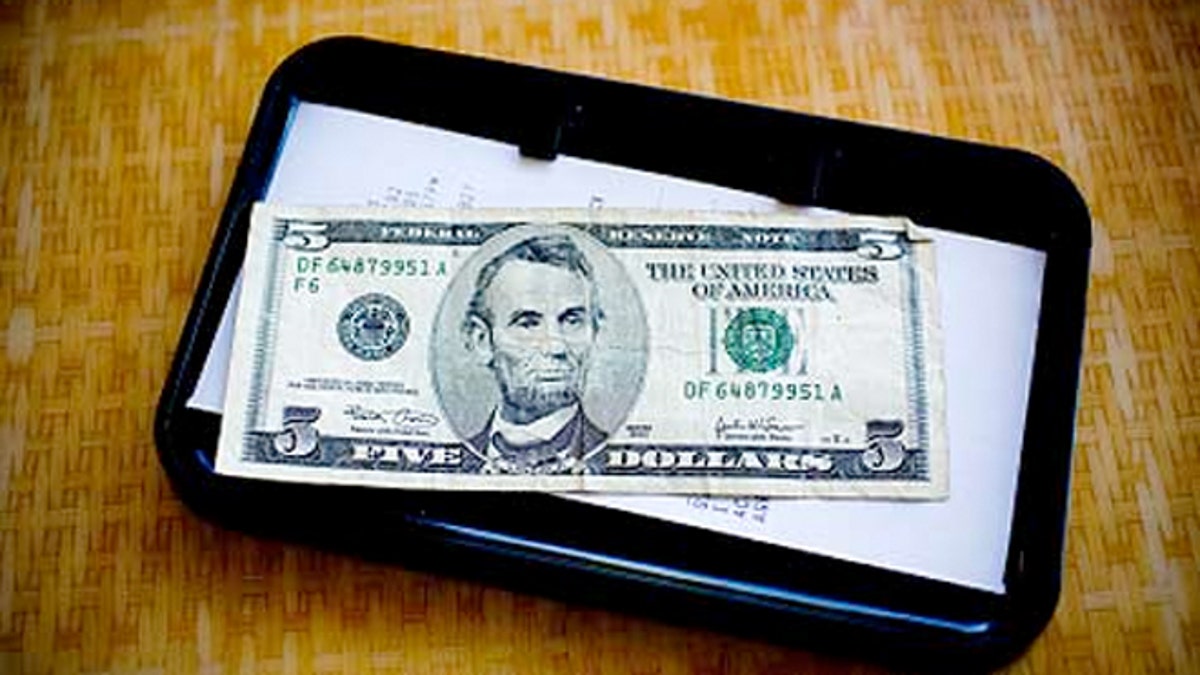 Should restaurants scrap the practice of tipping?
There is a growing chorus of those in the food world to end it.
Creating buzz this week is a restaurant owner who said that he scrapped tips and ultimately got better service from his staff.
Writing in Slate, Jay Porter, the owner of a San Diego restaurant called the Linkery–now closed-- says he abolished tipping for the last six years, which resulted in more motivated staff and better business. Arguing that restaurant staff needs to be paid a living wage, he said that he and his employees opted to tack on an extra 18 percent to each customer's bill and distribute the money evenly among everyone who worked at his farm-to-table restaurant.
"Creating a non-tipping culture in restaurants is possible," Porter wrote in the article. "Within a couple of months, our server team was making more money than it had under the tipped system. The quality of our service also improved."
Portner has been an outspoken supporter of abolishing tipping at restaurants and was the subject of a piece in the New York Times on the issue in 2008.
Yet reviews on Yelp showed that some diners were unhappy about having an automatic 18 percent being added to the bill, and San Diego's attorney reportedly threatened to shut down The Linkery over the policy.
American attitudes towards tipping are not so straight forward. Researchers say that tipping is one way diners feel in control of mitigating a bad dining experience. But, a recent survey found that 63 percent of Americans felt pressure to tip even when the service was bad.
Porter hasn't been the only restaurant owner to abandon tipping. In June, Sushi Yasuda, the celebrated Japanese restaurant in New York City, got rid of tips citing Japanese custom:
"Following the custom in Japan, Sushi Yasuda's service staff are fully compensated by their salary. Therefore gratuities are not accepted. Thank you," it now says on its receipts and menus.
Yet, such restaurants are still in the minority, and in most cases they replaced the tip with a mandatory "service charge" added to the bill, or an increase in food prices.
Those who prefer the status quo say getting rid of the practice would cause an increase in the cost of the meal and owners –who live by slim profit margins – are afraid higher prices will drive away customers.
However, some are considering it.
Following another piece in Slate from writer Brian Palmer who called tipping an "abomination" and a "a repugnant custom," Danny Meyer, owner of the group that runs Shake Shack, Blue Smoke, and Union Square Café, tweeted that he thought about abolishing tips several years ago but his staff asked to keep things the same.
Famed chefs Tom Colicchio and David Chang also chimed in via Twitter, saying that they too considered getting rid of tips. Chang added he had yet to figure out "how to increase prices removing tips w/o revolt."
Other chefs at the time said that the tipping culture is inextricably linked to the dining experience.
So what do you think? Should America get rid of our tipping tradition?