DC restaurant suing Trump hotel over 'unfair competition' already facing backlash
President Trump and the Trump International Hotel in Washington D.C. are at the center of a new lawsuit, alleging that the government-owned property puts competing businesses at a major disadvantage.
Khalid Pitts and Diane Gross, owners of Cork Wine Bar in the nation's capital, filed an unfair competition lawsuit Wednesday night in the Superior Court of the District of Columbia.
Attorneys for Cork point to a clause in the hotel's lease with the General Services Administration that says no elected official should have "any share" or "any benefit" from the agreement. The lawsuit also argues that the wine bar-- which is located 15 minutes from Trump's new hotel-- is missing out on business from politicians and out-of-state dignitaries officials who are being courted by the president.
Attorney for the case, Mark Zaid, who has represented whistleblowers and journalists in the past, says that although Cork's business is down and not in a dire situation, there has been a notable negative impact since Trump's inauguration.
TRUMP HOTELS' TWITTER ACCOUNT TROLLED AFTER PRESIDENT'S IMMIGRATION ORDER
"When this started to become an issue in November, with the lease provision, I said find me a plaintiff and I'll take the case. Scott Rome is a business lawyer in D.C. Rome approached me and said he could get some restaurants," Zaid told Fox News.
"They [restaurants or hotels] had to have the courage to step up to the plate. Not everyone is willing to do that. A lot of hotels would show interest, and then the CEOs would step away for fear of their shareholders.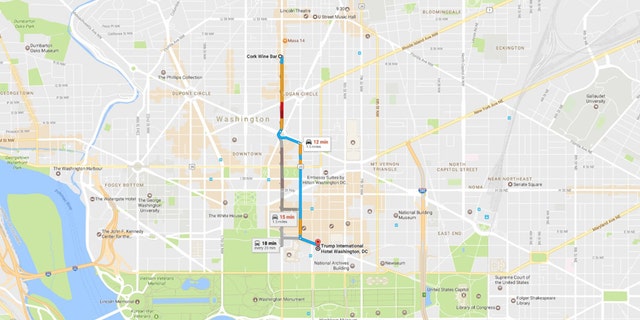 "Cork was brave enough to be the pioneer, and we're hopeful that others come forward -- not that we need them necessarily," Zaid said.
All attorneys assigned to the wine bar's case are working pro-bono and Zaid says the suit isn't about money.
He told Fox News that his team is looking for one of three outcomes. "One, Trump could resign as president. Two, he could sell the property -- and not selling his interest to his kids. Three, the whole Trump clan could shut the hotel down entirely," he said.
Co-council on the lawsuit, Scott Rome, told The Washingtonian the lawsuit isn't just an anti-Trump stunt. "From my position, if a Democratic politician was hurting clients in this way, I would have the same response," he said.
"It's inappropriate for Trump to own the business while he's president. It wasn't inappropriate in September, but it is now," Zaid said.
7 WAYS TRUMP HOTEL IS TRYING TO MAKE DC GREAT AGAIN
But many online aren't buying the wine bar's motive for filing a suit against the president's business.
Others are standing by the popular wine bar in solidarity.
Cork, however, hosts political events open to both Democrats and Republicans. Lots of law firms used to reserve that space, and now those firms are reserving space at Trump hotel, Zaid says.
According The Hill, in December, the Embassy of Kuwait switched the location of an event from the Four Seasons Hotel in Georgetown to the Trump International Hotel, which is much closer to the White House.
"They do it so when they meet the president they can say, 'we enjoyed your hotel.' And they go so they can see him or by seen by him," Zaid said.
He adds, "You better bet a bunch of my colleagues are eating there hoping someone from the White House is seeing them there. And that's where the unfair competition comes into play. Plus the lease says you can't do this."
But this isn't the only hospitality-related lawsuit President Trump has on his plate.
Celebrity chefs Geoffrey Zakarian and José Andrés have been embroiled in legal battles with the president since they both pulled out of individual deals to open restaurants at the new D.C. property in 2015, after Trump made disparaging remarks about Mexican immigrants during his campaign. Both cases are scheduled for pretrial conferences in May.
The next phase in Cork's case is to serve Trump "without getting shot by secret service," Zain says jokingly. "Once we serve, they have 21 days to respond. This is simply business versus business. The only difference is that this business is owned by the president."
A representative from the Trump Organization was not immediately available for comment.
UPDATE: After this article was published, Alan Garten, executive vice president and chief legal officer for the Trump Organization, told Fox News via email that, "The lawsuit is a publicity stunt brought by activist lawyers and their clients to pursue a political agenda and get their names in the paper. The claims are completely baseless and have no merit."