DC doughnut shop wants Bryce Harper back with Washington Nationals, offers him free doughnuts for life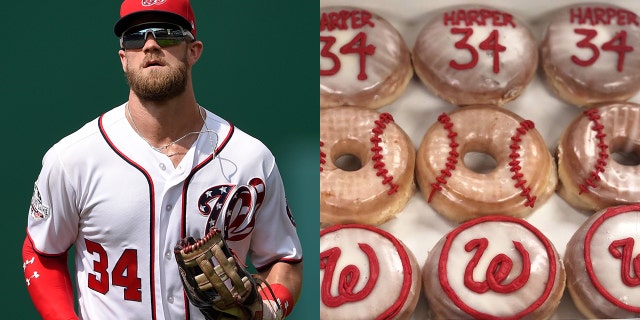 A doughnut shop in D.C. is hoping to convince an MLB player to remain with the Washington Nationals by extending him a pretty sweet deal. Literally.
The operators of District Doughnut have publicly offered free doughnuts for life to longtime Nationals right-fielder – and current free agent – Bryce Harper amid reports that he may soon sign with a competing team.
They've also offered to design a custom flavor in his honor.
COPS GRIEVE LOSS OF KRISPY KREME DOUGHNUT TRUCK
"Hey @Bharper3407 we will give you unlimited doughnuts for life AND make a custom flavor for you if you stay with the @Nationals," the bakery wrote on Twitter earlier this week.
"The offer still stands," owner Will Hand told Fox News on Thursday. "We have always been big fans of Bryce. He has been to our Capitol Hill shop a couple times and posted about us before."
"We have a framed picture of Bryce with our founders," he added.
The shop also teased a possible design for Harper's signature variety of doughnut, which patrons have already been curious to try.
"Customers have been asking for them ever since we posted the pictures," Hand said.
CLICK HERE TO GET THE FOX NEWS APP
The Philadelphia Phillies, Los Angeles Dodgers and San Francisco Giants have reportedly been courting Harper with contracts, the former having made the highest offer, USA Today reported, citing "three people with direct knowledge."