David Beckham whisky finally hits UK shelves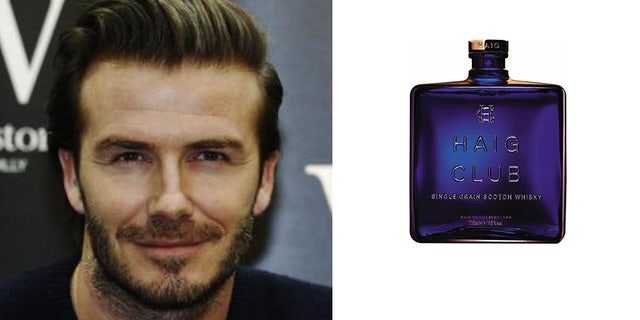 Soccer superstar David Beckham's new whisky is new available for sale.
Back in April, global liquor giant Diageo announced a partnership with Beckham, English entrepreneur Simon Fuller and House of Haig to create Haig Club Single Grain Scotch Whisky. The spirit has now hit shelves in London and will be sold exclusively at Selfridge's until the end of the month before moving on to different retail markets.
The deep blue bottle, which is reported to have notes of butterscotch and toffee, looks more like a men's cologne than beverage--and doesn't cheap. At £45 ($77 USD), you might expect that a little Beckham sweat makes its way into each one.
According to Diageo, House of Haig --makers of Haig Blended Scotch Whisky and Dimple Scotch Whisky-- is Scotland's oldest grain whisky dynasty, with 400 years of distilling history.
Haig Club is created using a unique process that combines grain whisky from three cask types, resulting in an ultra smooth finish that Diageo hopes will bring in new consumers who do not normally drink whisky.
While at the helm of promoting Haig Club, Beckham is also promoting a responsible drinking campaign associated with the liquor. The retired soccer idol received criticism from charity group Alcohol Concern, citing that the cross promotion of spirits and responsible drinking sends a confusing to message to children, many of whom worship the star, according to The Drinks Business.
No word yet on when Haig Club is scheduled to make it's debut across the pond, but U.S. whisky enthusiasts can order the product online through Selfridges.