Dallas restaurant's gun regulation message sparks controversy with NRA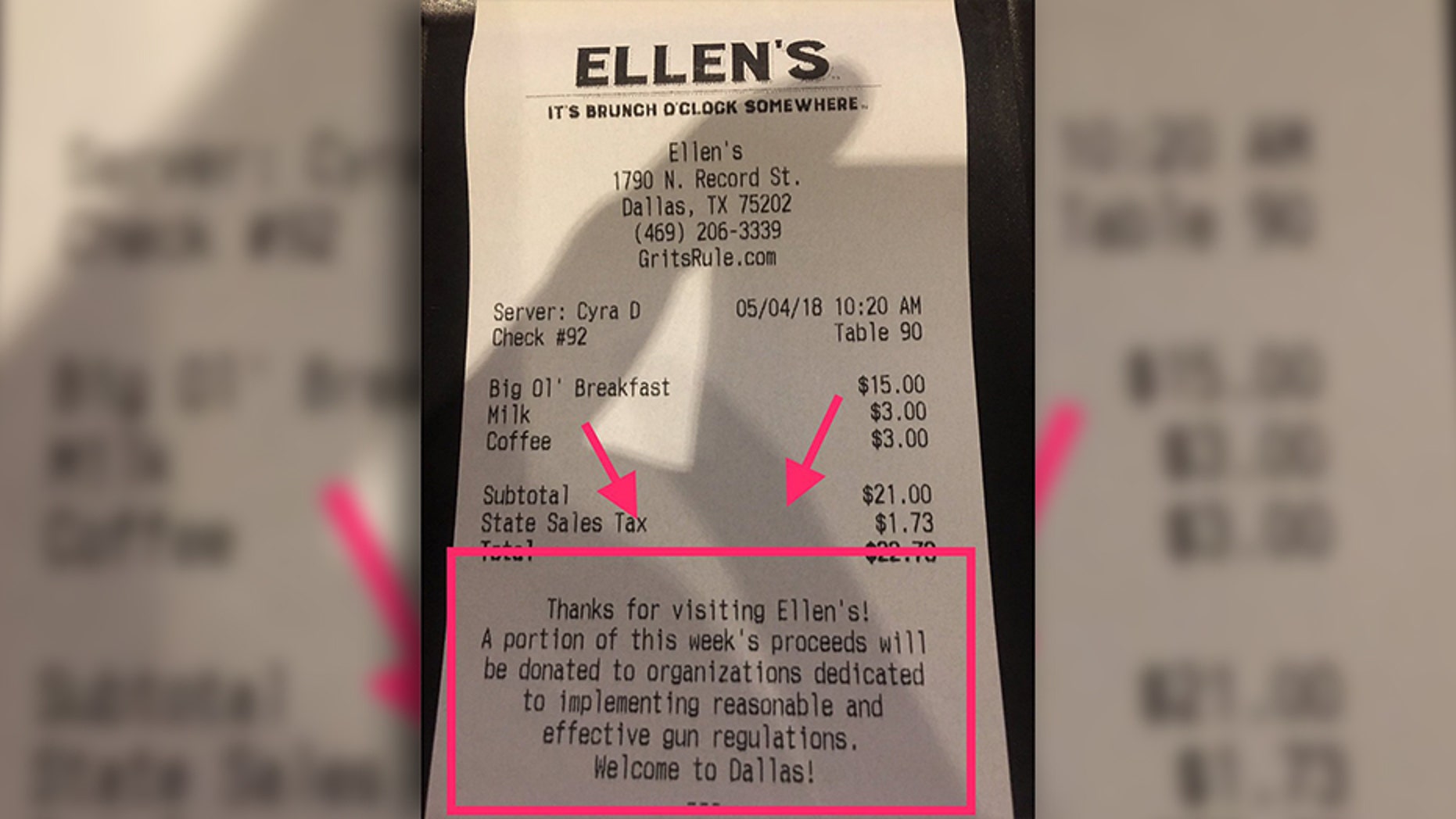 The National Rifle Association has tweeted at followers to avoid patronizing a Dallas restaurant that said it's donating a portion its proceeds this week to "organizations dedicated to implementing reasonable and effective gun regulations."
PRO-GUN STUDENT SUES SCHOOL OVER DRESS CODE, CLAIMS IT VIOLATES FIRST AMENDMENT
The restaurant, Ellen's, is located in downtown Dallas, where the NRA held its annual meeting over the weekend. Ellen's began printing the controversial message on receipts Friday.
Restaurant owner Joe Groves said he received dozens of phone calls from NRA members asking him about the donations. Groves specified the funds would go to organizations that "protect citizens' 2nd Amendment rights and also help reduce needless gun violence."
"No NRA member wants kids to get slaughtered. No NRA member wants cops to get killed. And people like me don't want to take their guns away either. Can we not have both?" said Groves to KTVT.

Groves disputed that he is trying to infringe on Second Amendment rights.
"[NRA members] are so touchy about that, any conversation is trying to take away their guns. It's the opposite of that," Groves told BuzzFeed News.
FOLLOW US ON FACEBOOK FOR MORE FOX LIFESTYLE NEWS
But NRA member Patricia Ferguson wasn't having it. She told KTVT, "No! I'm sorry, but when you're NRA, we don't want anymore gun regulations. We already have too many,"
The Associated Press contributed to this story.