Culhane's Guinness Beef Stew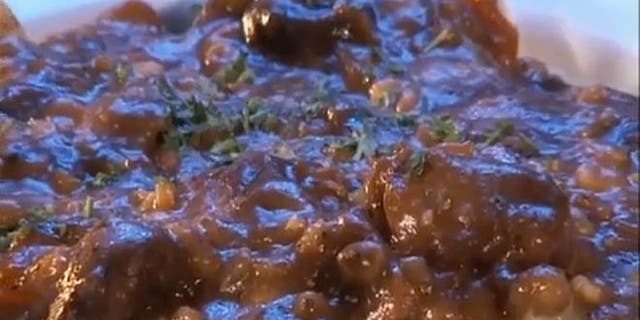 It tastes like beer and like stew at the same time. Try this Guinness beef stew recipe straight from the Emerald Isle created by the sisters at Culhane's Irish Pub in Atlantic Beach, Fla. This recipe is featured in Guy Fieri's Diners, Drive-ins, and Dives: The Funky Finds in Flavortown cookbook.
Cook Time:
Prep Time:
Total Time:
Servings: 10
Ingredients:
3 Pounds cubed stew meat (we use beef tips)
1 Tablespoon Culhane's Spice Blend RGP (recipe follows)
2 Quart stout beer, such as Guinness
? Cup (½ stick) unsalted butter
2 Cup diced yellow onions
2 Cup sliced carrots
2 Cup sliced cremini mushrooms
1/2 Cup all-purpose flour
1 Tablespoon salt
2 Tablespoon granulated garlic
Demi Glace
1 Cup uncooked barley
Steamed diced Yukon gold potatoes (¾ cup per serving)
1 Teaspoon onion powder
1 Teaspoon garlic powder
1 Teaspoon roasted granulated garlic (available at spicebarn.com)
1 Teaspoon ground black pepper
1/2 Teaspoon ground white pepper
1 Teaspoon kosher salt
1/2 Teaspoon ground allspice
1/2 Teaspoon dry mustard (preferably Coleman's)
1/2 teaspoon dried basil
1/4 Teaspoon dried red pepper flakes
1/4 Teaspoon dried marjoram
Preparation:
In a bowl, combine all the ingredients. Store in an airtight container.
In a large covered container, marinate the beef in the spice blend seasoning and beer. Cover and refrigerate overnight to tenderize and "flavorize."
Remove the beef from the marinade and set both aside. In a braising pot or Dutch oven over medium heat, melt the butter and sweat the onions and carrots until the onions are translucent, about 10 minutes. Meanwhile, in a separate pan over high heat, sear the marinated beef until browned on all sides. Set aside.
Add the mushrooms to the onions and sauté for 5 minutes. Stir in the flour, making a roux, and cook for 2 minutes, stirring. Add the reserved beer marinade, the salt, granulated garlic, 8 cups water, and the demi glace.
Bring to a simmer, then add the barley and beef. Return to a simmer, stirring constantly. Simmer the stew, uncovered, for 2 to 3 hours, until liquid is reduced by one-quarter, stirring occasionally. Serve with potatoes.