Craziest fast food stories
There are a lot of reasons why fast food is so popular. It's convenient, cheap and reliable.
But fast food joints also can bring out some strange behavior.
Turns out many people go to extreme -- sometimes illegal -- lengths to satisfy a fast food craving. Whether it's driving over a day and a half for some authentic fried chicken, or saddling up a pony to trot through a drive-thru, when it comes to fast food, things can get a little weird.
So in the spirit of our favorite speedy cuisine, we've rounded up some of the craziest fast food stories involving foul-mouthed employees, angry customers, hungry fans and even one oddly-named couple.
1. Man arrested for tossing gator into Wendy's drive-thru window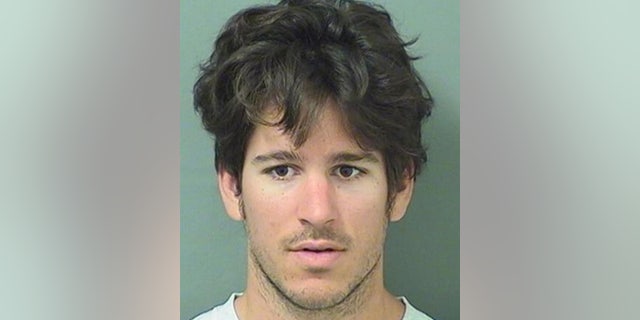 A Florida man threw a three-and-a-half-foot alligator through a Wendy's drive-thru window as a joke --but no one's laughing.
The incident occurred in October, but Joshua James, 23, was taken into custody by U.S. Marshals this week and is accused of assault with a deadly weapon, illegally capturing an alligator and charged with petit larceny.
Officials say the gator was inside the restaurant and was later released in a nearby canal.
2. Drive-thru worker pulled out of window by her hair
This disturbing video of a fast food drive-thru worker being dragged out the service window by her hair during a heated argument is reminder how quick disputes can escalate.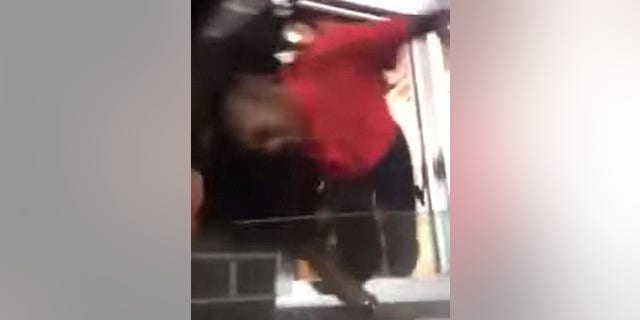 Uploaded on YouTube this week, the footage shows a confrontation already in progress at the window between a worker and a customer, with the driver shouting: "Come on, b****."
It is not yet known where or when the footage was shot, or if police were called, but the video appears to be taken from a cell phone by a person sitting in the seat behind the attacker, who looks to be female. Standing up in the driver's seat, she shouts some inaudible comments before grabbing the female worker by her long hair, pulling her right through the window.
A loud thud is heard, which is presumably the worker's head hitting the side of the car.
Someone else can then be heard yelling: 'Get out, Quita. Get out. Open the door!' before the video cuts out.
3. Starbucks manager goes off on customer over 99 cent cookie straw
A Starbucks employee at a location in New York City was filmed yelling at a customer over a misunderstanding related to a 99-cent cookie straw. Customer Ruby Chen posted the now-viral video to the coffee chain's corporate Facebook page explaining, "I didn't hear her co-worker asking my name to put on cup at first because I was opening my reward app on my phone to pay," Chen wrote. "Then Melissa started to shout at me saying hey helloooo with very bad attitude."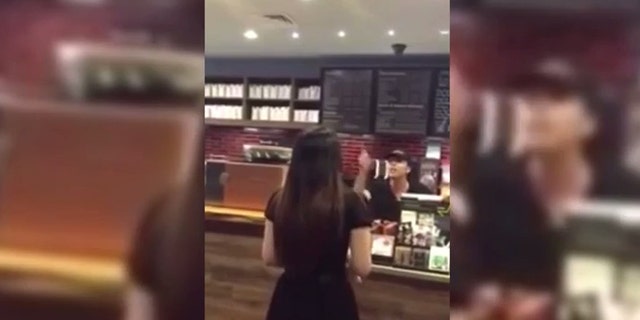 The supervisor at the Queens shop is seen waving her hands at Chen and repeatedly telling her to leave, reportedly due to the fact that she thought Chen had not paid for an edible straw worth just 99 cents. The employee is heard screaming, "Now give me the straw, and leave!" and "You're not gonna be served here. Bye."
Starbucks swiftly responded to the incident and the worker seen in the video has since been fired. Company spokeswoman Maggie Jantzen gave the following statement to the New York Daily News: "This customer's experience isn't reflective of the service that our partners provide to customers every day. We want to work with her to make it right."
4. McDonald's employee delivers a knock-out punch
A McDonald's employee in East Lansing, Mich., recently showed off his right hook when dealing with an unruly customer. In a video posted to YouTube, a customer, believed to be drunk, spit on the counter and knocked over a "Caution: Wet Floor" sign. One McDonald's employee and another man tried to talk to him, but then a second McDonald's worker comes over, tries to pick the man up, and when he resists punches him once, knocking him to the floor, and apparently rendering him unconscious.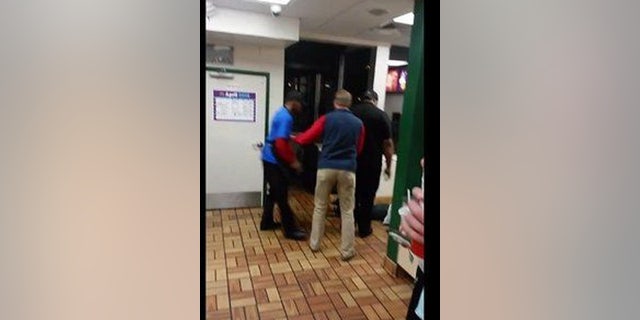 5. Man poses as police officer to cut Whataburger line
Some people will do anything to get their fast food fix -- including breaking the law. In March of this year, an Odessa, Texas, man was arrested for posing as a police officer to speed through the Whataburger drive-thru line. Not only did the man pick up burgers dressed in uniform, but sped home through traffic lights using fake lights and sirens on his "undercover" police vehicle. The man was fined $15,000. Now that's an expensive meal.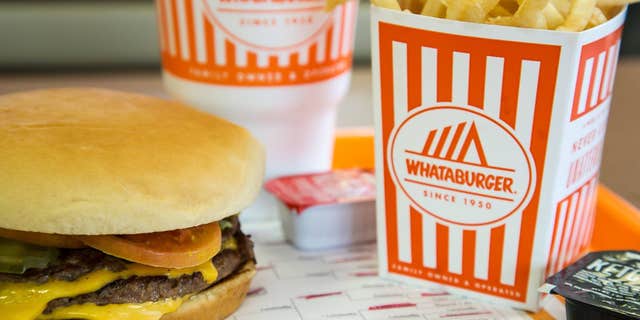 6. Canadians travel 2,000 for authentic KFC
How far would you travel to satisfy a craving for your favorite fast food? A group of Canadians traveled 2,000 miles from Montreal all the way to Colonel Sanders original KFC and museum in Corbin, Ky. The journey took 34 hours, but for a few of the younger travelers it was the first time they had tasted real Kentucky Fried Chicken. Was it worth it? One young boy who made the trip with his dad called it "delicious!"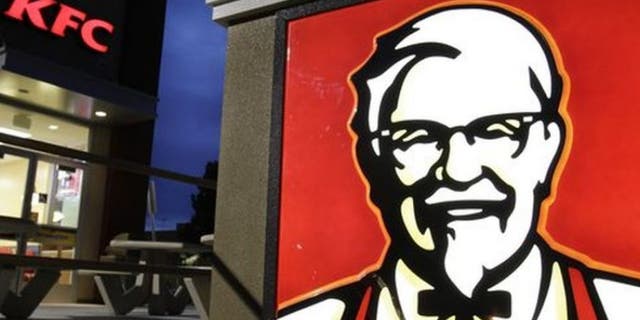 7. Burger King employee threatens to slap customer over refund
A dissatisfied Burger King customer got more than she bargained for after requesting a refund for her shake. In a video posted to LiveLeak, a customer is seen walking up to a Burger King counter, claiming the milkshake she had been served was "garbage."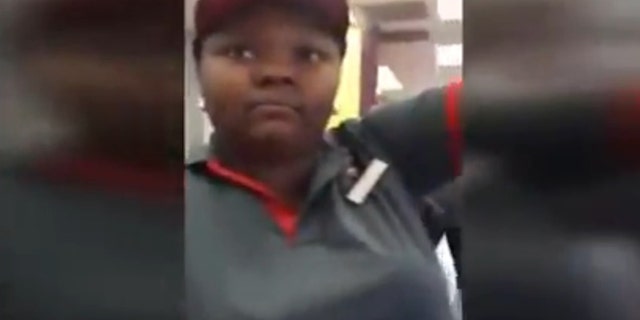 But instead of offering to replace the drink or issuing a refund, the employee behind the counter becomes irate. After cursing at the customer, the unnamed employee becomes even more aggressive after realizing she had been filmed. "You wanna get slapped, you wanna get slapped?" she threatens. It is unclear how the incident ended, but after viewing the video, Burger King issued an apology to the customer and announced the franchisee owner fired the worker seen in the clip. What happened to having it your way?
8. Some French people waited 15 hours for free Burger King
The French may be picky about their food, but apparently the Whopper is up to snuff. As part of a new expansion across the country, Burger King offered free burgers to the first 6,000 people who showed up at its Lille location in the north of France. Turns out, people were really, really excited. Pictures of the unbelievably long line stretched hundreds deep for hours while people waited to get their hands on a coveted American burger. Some reportedly waited up to 15 hours. The chain plans to open 400 new stores in the next 10 years, so hopefully the Frenchies won't have to wait so long next time.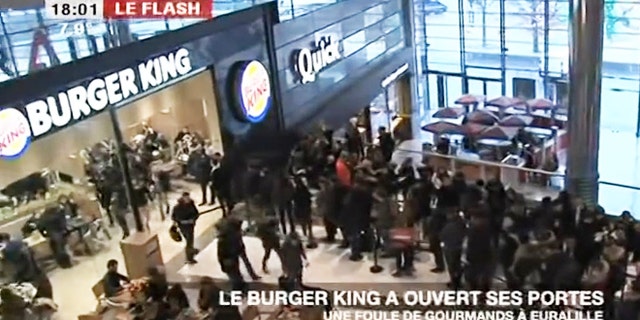 9. Man fined $255 for going through Taco Bell drive-thru on horse
Horses may be the preferred method of transport in some parts of the country, but police in Texas say they don't belong in a drive-thru. Rick Braun of Allen, Texas, was fined $255 for taking his horse through a Taco Bell drive-thru. Local police say other drivers may not be able to see the horse at night, causing a traffic hazard; also, they consider the droppings to be a sanitation issue. But Braun says he has picked up tacos many times -- two or three times a week -- on his trusty steed without incident and plans to fight the fine.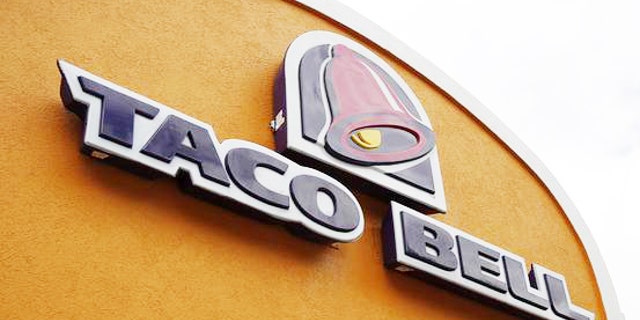 10. Pharrell was fired from McDonald's 3 times...but still wrote "I'm Lovin' It"
Hitmaker Pharrell Williams may be considered one of the hardest working men in show business today, but it turns out the "Happy" singer wasn't always such a good employee. On a recent appearance at "Late Night with Seth Meyers" Williams admitted that he was actually fired from McDonald's, not just once -- but three times from three different restaurants -- for being lazy. The singer said music was constantly on his mind and just couldn't focus on making food.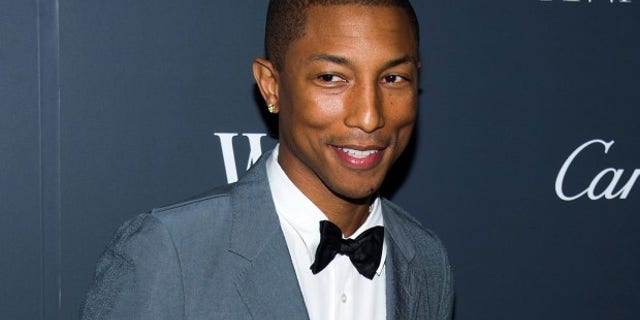 But fast-forward several years: Williams wrote "I'm Lovin' It" for Justin Timberlake. While the song wasn't a major hit, McDonald's loved the hook and adopted their signature slogan, which is still used today.
11. Burger King agrees to pay for Burger-King wedding
Burger King has agreed to finance the most delicious union between sweethearts Joel Burger and Ashley King. Of course, the chain was thrilled by the unexpected publicity garnered from the union, but the company will reportedly be supplying the wedding guests with branded yo-yos, gift bags, Mason jars and Burger King crowns -- all personalized just for the new Burger-Kings.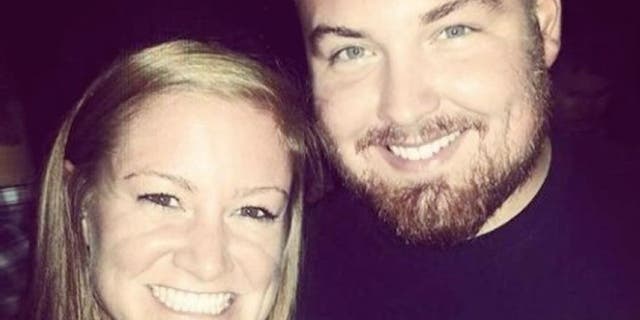 11. Five Guys employees caught attacking drunk customer
On Halloween night, a brawl broke out between an allegedly drunk customer and several employees at a Miami Beach location of the popular burger chain Five Guys. According to NBC South Florida, a witness claimed the woman—seen dressed in black—was "being loud and drunk, but didn't get physical." But soon employees are first seen throwing cups and napkins at the woman. Three workers then come out from behind the counter and begin hitting her and attempt to pull out her hair extensions. A security guard is caught in the fray but is unable to prevent punches being thrown. The woman is soon filmed leaving the restaurant. Tina Holley, a local Five Guys supervisor, condemned the actions of the chain's employees stating, "The actions displayed in this video are simply unacceptable. We are working with the franchise owner to do a full investigation and ensure appropriate disciplinary actions are taken."