Craigslist ad offers cash in exchange for for fake Yelp reviews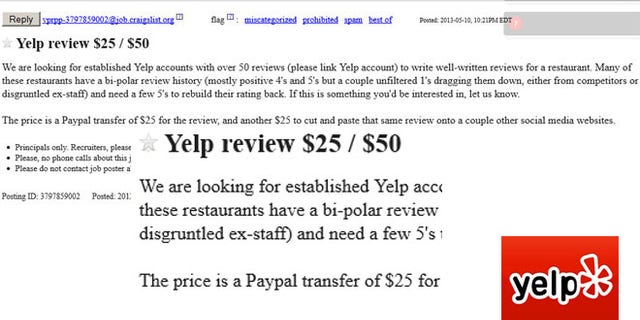 Want another reason not to trust Yelp?
An ad posted on Craigslist under the New York City section is seeking to hire people to write fake Yelp reviews for restaurants to help boost their ratings.
The ad, discovered by the website Eater, states someone is looking for well written reviews for $25 a pop.
"Many of these restaurants have a bi-polar review history (mostly positive 4's and 5's but a couple unfiltered 1's dragging them down, either from competitors or disgruntled ex-staff) and need a few 5's to rebuild their rating back. If this is something you'd be interested in, let us know."
For an extra $25, you can "cut and paste the same review onto a couple other social media websites."
Eater dug up emails from a totally real "reputation management firm" that charges restaurants $500 to increase their social media scores on review sites that your parents use, like Urbanspoon, Yelp, and TripAdvisor.
Yelp has said it is cracking down on businesses like this. It's using a computer filter to help uncover companies that purchase fake positive reviews and slapping them with a consumer alert.
But some small business owners are increasingly becoming fed up with Yelp.
FOX-5 San Diego spoke with Michael Schenk who owns Sliders Burgers in Mission Beach, Calif., who said he gets several people a week who tell him they wrote a positive review and it was filtered out.
Yelp spokeswoman Kristen Whisenand told FOX-5, "The automated review filter helps minimize the amount of guesswork that may go into determining whether a review is legitimate or not."
The Federal Trade Commission recently released more than 700 complaints against Yelp, for everything from the company filtering good reviews to harassing businesses to buy advertising.