Costa Coffee allowing stores to refuse service to children under 16, chain confirms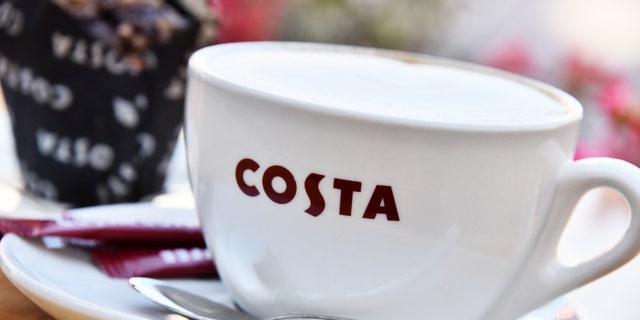 Costa Coffee, one of the largest coffee chains in the world, has confirmed it does not "encourage" the sale of coffee to customers under 16, and leaves it up to each store's discretion to refuse sales to anyone they suspect as being too young.
"We do not encourage the sale of caffeine to children under 16 and it is at store discretion to question a customer's age if they have any concerns," a spokesperson confirmed to the Manchester Evening News.
It was unclear if Costa Coffee's employees are allowed to ask for identification to prove a customer's age. A representative for the chain was not immediately available to comment.
PICS: STARBUCKS DEBUTS FOUR DESIGNS FOR 2018 HOLIDAY CUPS
Costa Coffee had originally implemented this policy over the summer, but news of the guidelines made headlines this week, after a dad in North Wales, U.K., discovered that a local outlet declined to sell his 12-year-old daughter a coffee drink, which she only buys as an "occasional treat," he said.
"I had never heard of Costa doing this before," he told the Daily Post.
"If they are concerned about health then perhaps they should they also stop selling cakes or high calorie drinks to overweight children because obesity is a far more serious health issue in this country than caffeine consumption," he added.
The dad also claimed that Costa Coffee's advertising is partly "aimed at younger people," though Costa denied this in a statement to Manchester Evening News.
Barry Stein, a pediatrician in New York, further told the New York Post that occasional caffeine consumption does not expose a teenager to damaging side effects, other than the potential for worsened sleep quality. He also cited the American Academy of Pediatrics' recommendation for caffeine consumption for minors, which is up to 100 milligrams per day.
FOLLOW US ON FACEBOOK FOR MORE FOX LIFESTYLE NEWS
Costa Coffee also found itself in hot water in early October, after airing a radio ad that joked about how its breakfast items were a better "deal" than buying an avocado.
"Oh, there's a great deal on ripen-at-home avocados. Sure, they'll be hard as rock for the first 18 days, three hours and 20 minutes, then they'll be ready to eat, for about 10 minutes, then they'll go off," the radio ad spot said. "For a better deal, head to Costa Coffee and grab a delicious, piping hot bacon roll or egg muffin for just £2 ($2.60) when you buy any Medio or Massimo hot drink or flat white before 11 a.m."
The U.K.'s Advertising Standards Authority later found the ad to be in breach of its policies after complaints that the ad "discourage[ed] the selection of fresh fruit."
Costa Coffee is currently Brtain's biggest coffee chain, with over 2,400 coffee shops in the U.K., per the Associated Press. Additional shops can be found in more than 30 countries, but no presence in North or South America.