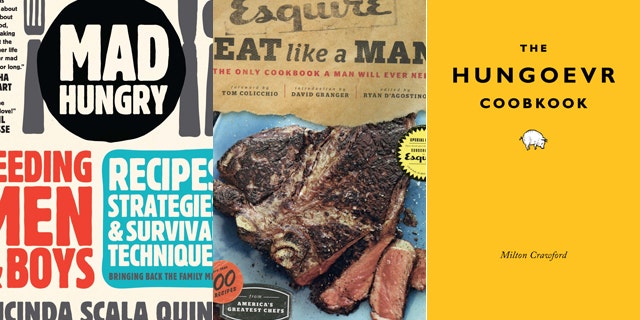 "Men are more reckless," says Esquire columnist and author, Ryan D'Agostino. "They don't think with their heads, but in a good way. They tend to throw rules out the window and play with fire. Literally." D'Agostino, of course, is talking about how men behave in the kitchen.
Men don't do the "thirty-minute-meal" thing. Cooking is an extension of their desire to tinker. "We like satisfying household jobs like hooking up new electrical circuits or renovating bathrooms," he says, because they play into men's tendency to go in and mess around with stuff until it works. The burgeoning market in men's cookbooks marries their desire to know how things work with their need to make things happen. The best books presume that men actually want to be in the kitchen, cooking for pleasure, seduction, survival or just to feed the kids.
So instead of ties, head covers or barbecue tools, give Dad a gift that keeps on giving. Herewith, three top men's cookbooks along with the authors' suggested Father's Day recipes.
D'Agostino gathered recipes and techniques from the country's best chefs for "Eat Like a Man: The Only Cookbook a Man Will Ever Need." He arranges the book by meal, categorizes recipes by skill level—easy, reasonable, worth-the-effort—and studs recipes with smart, visual cues: "stir till it looks like sand" rather than time cues "stir for five minutes." Food-porn photography, an oyster primer and mixology techniques for the five essential cocktails—Martini, Manhattan, Gimlet, Sidecar, Old-Fashioned
—complete the Mad Men vibe.
Try "easy" Banana Bread French Toast for Dad's breakfast. Dip store-bought banana bread in eggs, milk and cinnamon and fry. Top with lemon-zested sour cream and scrape a vanilla bean into maple syrup. For a "reasonable" Chicken-Parm Hero with Sausage lunch, dredge cutlets in flour, eggs and breadcrumbs. Slather a semolina roll with sausage-tomato sauce, lay in chicken, top with cheese and broil. "Worth-the-effort" Coca-Cola-Brined Fried Chicken is Chef John Currence's tribute to one of his favorite New Orleans chefs, Willie Mae. Soak chicken in a Coke, Worcestershire sauce and Tabasco brine. Drain, dry, dip into a batter laced with cayenne, onion powder, garlic powder and fry.
Click here for the full Coca-Cola-Brined Fried Chicken recipe.
If dad downs one beer too many the night before Father's Day, go with Milton Crawford's intentionally misspelled "The Hungoevr Cookbook." Crawford's questionnaires match the right recipes with each of six hangover types. For example, if Dad answers, "What would be your ideal activity be right now?" with, "If I had a coffin, I'd lie in it," an explosion has occurred. That means that when Dad looks in the mirror there's a mushroom cloud where his head should be. He's having an Atomic hangover. Crawford's Potato Hash with Avocado and Bacon is the cure. Huevos Rancheros reverse the futility-inducing despair of a Broken Compass hangover and will restore Dad's sense of purpose. If Dad feels like someone is strategically piercing his brain—the Sewing Machine hangover—soothe him with a satisfyingly starchy Elvis Presley Peanut Butter, Banana and Bacon Sandwich.
Remember that psychology is just as vital as physiology, says Crawford. Be positive and sensitive and feed Dad with a smile. If he can focus, he'll most likely make a miraculous recovery.
Lucinda Scala Quinn's "Mad Hungry: Feeding Men & Boys" is ostensibly about raising and feeding an army of starving males. You know what this means if your teens are boys. Scala Quinn, a full-time working mom, used to live in fear of having no food and having no plans when it came to feeding her three sons and husband. Then she rolled up her sleeves and got to work. Her real aim is to revive the elusive family meal. "If you cook for the people you love, and teach them how to do it, they'll pass it on," she says.
She recommends baked Crunchy Sesame Chicken Wings for Father's Day, with only five ingredients besides chicken, eggs and flour. "It's male food to the maximum," she says. So are Richie's Grilled Baby Back Ribs, which calls for cocoa and instant coffee, interestingly, for extra flavor if you bake rather than grill. Men will take pie over cake any day and Strawberry Rhubarb Pie is perfect as strawberry season has begun and rhubarb season is ending. "Make this pie," she says, "and you'll be beloved."
Moms with girls shouldn't be put off by the title. The only difference between boys and girls, says Quinn, is that girls rarely ask for thirds.
Click here for more from FoxNews.com Food and Drink