Cook Like a Dead Celebrity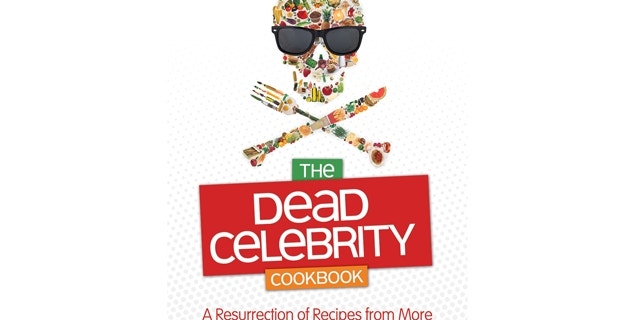 Most cookbook authors obsess about including only the very best recipes in their cookbooks. Not Frank Decaro. He didn't sweat the small stuff for the "Dead Celebrity Cookbook." His criterion was simple: If a recipe truly reflected the character of the dead celebrity who created it, it went in. Even if it was barely a recipe.
Like Dean Martin's Burgers and Bourbon.
Ingredients: ground beef, salt and eight ounces of bourbon, chilled. Directions: sprinkle salt in skillet; shape meat into patties; cook. Then, "pour two ounces of bourbon in each of four shot glasses. Drink with burgers."
The idea for the book came from a college come-as-your-favorite-dead-celebrity party Decaro threw with friends in the 80's. Guests included Sid Vicious, Ernest Hemingway and Jack Soo (Barney Miller's Yemana). Sirius radio-host Frank Decaro went as Grape Nuts spokesman, Euell Gibbons. Remember him? Gibbons' claim that many parts of a pine tree were edible turned him into a major pop icon back then.
Decaro says it was the best party ever (except for a shindig at Charo's Beverly Hills manse) but something was missing. "I remember thinking that the only thing that would have made it better was if we had actually had the food of our favorite dead celebrities," he reminisces.
Decades ago Decaro began scouring flea markets, yard sales, out-of-print publications and cookbooks for recipes, later logging hours on eBay. Among the treasures he unearthed: Liberace's Sticky Buns, the USS Enterprise's James "Scotty" Doohan's Lasagna and Ann Miller's Fettuccine Alfredo.
Click here for the recipe for Liberace's Sticky Buns.
The book marries Decaro's twin obsessions with movie/celebrity/pop culture and food. He belly laughs when asked if he has any formal culinary training. "Only if you count eating." He is an accomplished home cook, however, and tested every recipe in the book. The recipes reflect a happier time when carbs, mayo and butter were still considered friendlies.
The Make Room for Dinner chapter has recipes from beloved TV dads Fred MacMurray, Tom Bosley and Bill Bixby. Batman's Kitchen Capers offers circa 1960s Batman villain recipes, and Hungry Men Dinners features Chuck Connors' Clam Chowder and John Wayne's Favorite Casserole.
Click here to see the recipe for John Wayne's Favorite Casserole.
Despite the fact that Lucille Ball was famously non-foodie—"I just don't care about food. I only eat what I need"—Decaro found enough recipes for an I Lunch Lucy chapter. There's the politically incorrect Lucille Ball's "Chinese-y Thing," Sunday Night Goulash and Apple John (apple cobbler.)
Decaro sees the book as an extension of those 60s and 70s celebrity cooking segments with Mike Douglas, Dinah Shore, sometimes Johnny Carson. "That's how celebrities of that era showed that they were just like you and me," he says. They let their guard down when they cooked and you could identify with them. "You'd watch Bobby Darrin doing creamed spinach," says Decaro, "and think, 'I'll never sing Splish Splash better than Bobby Darrin but I can make his spinach better than he can.'"
Decaro deliberately includes obscure celebs because "they were great entertainers who a lot people just don't know about."
Take Ramon Novarro, the Mexican silent movie star who acted opposite Joan Crawford and Greta Garbo. He never quite got his due says Decaro, "but his guacamole should. It's the single best guacamole I've ever tasted." Decaro found it in a 1931 Beverly Hills women's magazine. Novarro used vinegar instead of traditional lime or lemon juice and added pomegranate seeds for a surprising tartness.
Salmon Pie, a canned-salmon version of chicken potpie comes from British legend, Hermione Gingold. "When asked how someone could make an apple pie with a difference, she answered, 'Use peaches,'" laughs Decaro. Her memoir, How to Grow Old Disgracefully, is a great read, he says. It was published posthumously in 1988, the year she would have been 91. "She should be remembered," he says simply.
Semi-obscure Richard Deacon cooked, as well as he acted. The long-suffering boss on The Dick Van Dyke Show also starred in classics like The Birds and Invasion of The Body Snatchers. His Bitters and Booze, a brandied chocolate mousse that needs only semi-sweet chocolate chips, heavy whipping cream and brandy. In real life Deacon was a gourmet cook and an early authority on and advocate for microwave ovens.
Click here for the recipe for Richard Deacon's Bitters and Booze.
Don't stress if you need both costume and culinary inspiration this Halloween, especially if you're throwing or attending a dead-celebrity party and you don't cook. Decaro's simple recipes ensure that you have a lot more options than going as Adam or Eve and just showing up with an apple.