Congressional candidate confronts transgender woman at Denny's for using women's bathroom
A woman running for Congress shared a video of herself on social media confronting a transgender woman at Denny's for using the women's bathroom.
Jazmina Saavedra, who's running as a Republican candidate for U.S. Congress in California's 44th District, posted the video to her Facebook page Tuesday. The video shows her going into the women's bathroom at the Los Angeles restaurant to confront someone in a stall.
"I'm trying to use the ladies room and there is a man here saying he's a lady," she tells the camera as she enters the bathroom.
PREGNANT FRONTIER AIRLINES PASSENGER ALLEGEDLY PUNCHED IN STOMACH AT ORLANDO AIRPORT
The person inside the bathroom tells Saavedra what she's doing is an invasion of privacy.
"You guys are harassing me. I'm just using the restroom and you are invading my privacy," the guest says from inside the stall.
Saavedra leaves the bathroom but tells the person, "You violated my right. You are stupid, sick."
"That guy violated my right to use the ladies' room here. He's saying he's a lady. Stupid guy," she tells the camera. "They put us in danger ... a woman like me trying to use the ladies' room with a man inside saying he's a lady."
A few minutes later, a Denny's manager escorts the individual out of the bathroom and towards the restaurant exit as Saavedra continues to record.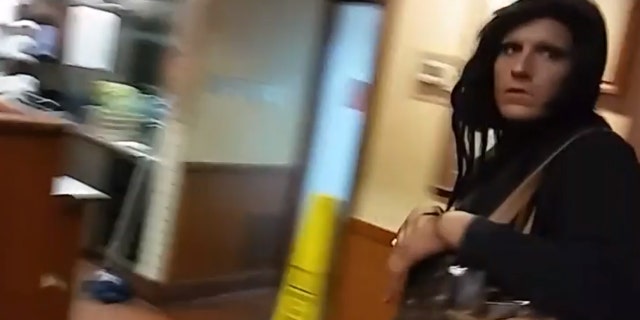 She sits back down at the booth and explains how she wants everyone to know the "insane" things "really happening in California.
"I was with my pepper spray ready and I called the manager. He helped me," Saavedra says.
HOMELESS MAN SUING BURGER KING FOR ACCUSED HIM OF USING FAKE MONEY, WHICH LANDED HIM IN JAIL
"We need to stop those crazy people in power. We cannot allow those things…We need to respect woman and man separate," she continues.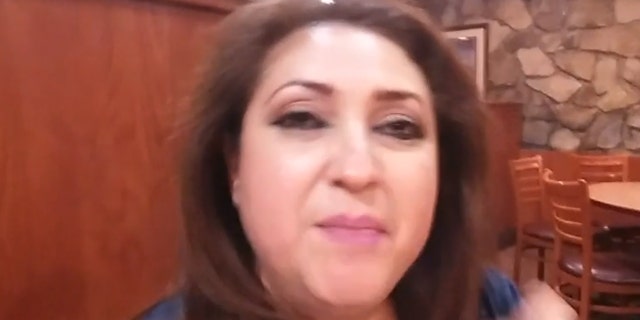 Denny's released a statement Friday about the incident, saying they were "extremely disturbed," but the video didn't tell the whole story, explaining that the customer was removed from the bathroom because there had been "drug paraphernalia" on the floor, not because of gender identity.
"At Denny's, we do not tolerate discrimination of any kind, inclusive of gender identity and sexual orientation.
"We are dedicated to providing a welcoming dining environment for all our guests and believe that our transgender guests and team members should be allowed to use the bathroom of the gender they identify with. Our restaurant teams attend training which covers our policies against discrimination and promotes respect for all guests.
"There is no place for discrimination of any kind in our restaurants. We do apologize to our transgender guest and others in the restaurant that had to endure another customer's disrespectful behavior," the statement read, per Advocate.
Saavedra told Refinery29 that allowing people to use whichever bathroom they choose puts her in danger. "Anyone can say he feels as a woman and go into the restroom and attack a woman. Why should I feel insecure because these people have a problem with their identity?" she said.
"I don't know why the LGBT community is always trying to victimize themselves," Saavedra said in a Facebook live video on Friday.
FOLLOW US ON FACEBOOK FOR MORE FOX LIFESTYLE NEWS
Saavedra's opponent, Democratic Rep. Nanette Barragán, told Refinery29 she was "appalled" by the treatment the woman received for simply trying to use the restroom. "Everyone has the right to their own identity, and the right not to be discriminated against for who they are," she said.
Saavedra did not immediately respond to Fox News' request for comment.