Confederate flag can't be removed from lawn of ice cream shop, despite owner's wishes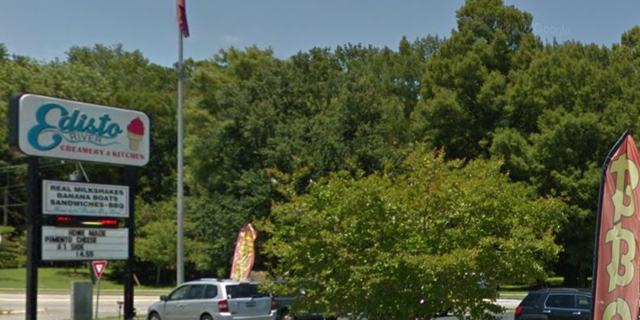 A South Carolina restaurant owner says he cannot remove the Confederate flag that flies over his establishment, even though he desperately wants to.
Tommy Daras, who owns Edisto River Creamery ice cream shop in Orangeburg, S.C., wants to remove the flag in a town that is more than 75 percent African American, but claims he cannot because the property's former owner sold the land surrounding the flagpole to a Confederate Veterans rights group who refuses to remove it, according to Fox 8.
"That flag needs to be moved and if there's any possible way that I can do it, it's going to be done," Daras said. "Right now, we're gridlocked."
CALIF. BAR PUTS UP INFLATABLE 'BORDER WALL' ON CINCO DE MAYO, SOCIAL MEDIA RESPONDS
Darras bought the establishment in 2015 from the family of Maurice Bessinger's family, a politician and restaurateur who owned Maurice's Piggie Park, a barbecue restaurant chain.
During his life, Bessinger was critical of the Civil Rights Act and called Brown v. Board of Education — the 1954 Supreme Court case that ended race-based segregation in American public and private schools — a "really bad" decision.
"I raised the flag out here on the flagpole to protest the taking down of our heritage flag," Bessinger said in 2000.
Bessinger died in 2014, but wrote that the flags that fly outside of his establishments "will stay."
"I will fight on because this is what God wants me to do," he added.
Before his death, Bessinger sold the small section of land that surrounds the flagpole to the Sons of Confederate Veterans Camp 842.
SOUTH CAROLINA SPECIAL ELECTION: NORMAN HOLDS HOUSE SEAT FOR REPUBLICANS
"And we've been trying ever since to … honor the Confederate soldier," Buzz Braxton, commander and member of the group, said. "He put it in the hands of people that he trusted because he loved his Confederate ancestors and his Confederate history just like we do. So, there was nothing sinister."
However, Daras said the flag needs to be removed, especially following a 2015 mass shooting in which a young white man, Dylann Roof, opened fire and killed nine black parishioners inside the Emanuel African Methodist Episcopal Church, a historically black church in Charleston, S.C. (Pictures found after the assault showed Roof posing with the Confederate flag.)
"From that day forward, all hell broke loose for me," Daras said. "My windows were broken out, my phone was ringing off the hook, my employees were harassed. I was fist-fighting with people in the parking lot. Everyone in town assumed it was my property because it looks like it's attached to this building."
FOLLOW US ON FACEBOOK FOR MORE FOX LIFESTYLE NEWS
The Sons of Confederate Veterans said there is no way they will remove the flag.
Daras' attorney, however, said there is a conflict regarding who actually owns the land with the flag pole; the attorney says Daras' land deal records exhibit no exception for the property that the association bought from Bessinger years before.