Competitive eater shatters powdered donut, maple syrup chugging records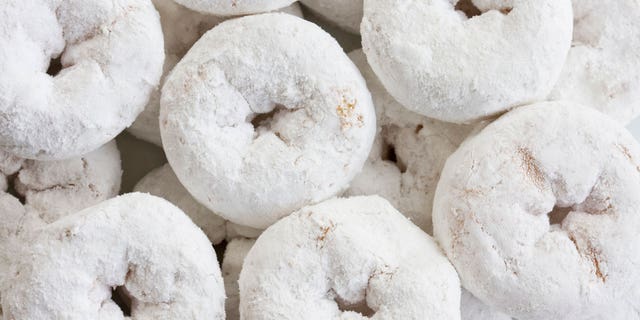 Los Angeles-based competitive eater Kevin Strahle — known to fans as L.A. Beast — isn't done making his (bite) mark on the Guinness Book of World Records.
On Friday, Strahle added two new achievements to his ever-expanding smorgasbord of gastronomic feats: He now holds the world record for eating the most powdered doughnuts in a three-minute time period , as well as the record for the fastest time to drink an entire 32-ounce jug of maple syrup (10.8 seconds)
Strahle's most recent accomplishments follow the two Guinness World Records he set on May 2, which included: eating 66 grams of ghost peppers (also known as bhut jolokia chilies) in just two minutes; and consuming 642.12 grams of McDonald's chicken nuggets in just three minutes, shattering the previous record of just 531 grams.
COMPETITIVE EATER DOWNS 255 PEEPS TO BREAK WORLD RECORD
All of Strahle's attempts were broadcast live from the Guinness offices in New York City, via Facebook Live.
Strahle's latest records, however, might actually be more impressive than they first sound. As Strahle himself found out, the officials at Guinness impose several rules for anyone attempting a record-worthy run at powdered doughnuts.
While making his attempt, Strahle was not allowed any liquids, nor was he allowed to lick his lips at any time. He was also required to finish each individual doughnut before starting on another, with a representative for Guinness checking to see that he had swallowed each pastry before moving on to the next. The doughnuts themselves needed to be fresh, at least 6 centimeters in diameter, completely covered in powdered sugar, and served at room temperature.
Even Strahle himself remarked that the number of rules was "ridiculous" when training for the record. He also caught himself licking his lips several times while training, a hurdle that he claims took "intense focus" to overcome.
FOLLOW US ON FACEBOOK FOR MORE FOX LIFESTYLE NEWS
It turns out Strahle's training and "intense focus" paid off, because he not only beat the previous record of six powdered doughnuts — set by Shamus Petherick of Australia in 2010 — he shattered it by downing nine.
Unsurprisingly, "Can I lick my lips now?" were Strahle's first words upon receiving his certification.
Strahle also got the chance to wash down the doughnuts during his next challenge, when he consumed a 32-ounce bottle of maple syrup in just 10.8 seconds — or less than half the time it took the previous record-holder (26 seconds).
Strahle confirmed on Instagram that he has plans to break even more Guinness World Records, though he hasn't specified what his next will be. However, as he told Guinness, fans shouldn't expect him to take a run at the record for most M&M's eaten with chopsticks in three minutes (he had previously hinted at it on social media) as his proficiency with chopsticks isn't quite where it needs to be.