Competitive eater becomes first to take down 3-foot-long 'Anaconda' burrito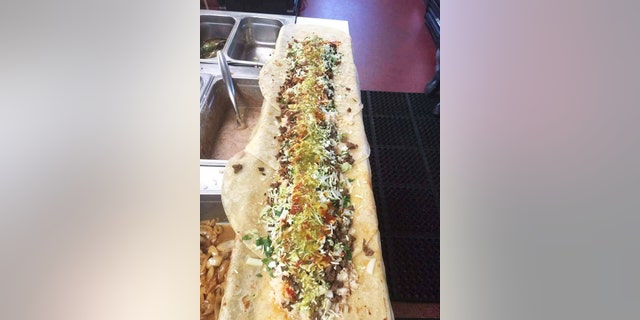 NEWYou can now listen to Fox News articles!
A nationally ranked competitive eater has become the first person to finish a 3-foot-long, 5-and-a-half pound burrito.
Pablo Martinez, who is ranked 20th in the world by Major League Eating, finished Taqueria Yareli's famous Anaconda burrito in 13 minutes and 8 seconds.
Joey Ybarra, Martinez's friend, documented the experience at the Fresno. Calif. taco restaurant. In the video, the competitive eater says burritos are his specialty and doesn't seem phased as he dives in to the monstrous meal.
Ybarra says that normally the "burrito is sliced and served to a family of four."
CUSTOMERS SUING CHIPOTLE OVER '300 CALORIE' BURRITO
After finishing three-quarters of the burrito, Martinez appears to slow down but the small crowd gathered outside the restaurant cheers him on.
"That was a lot heavier than I thought," Martinez says after finishing the burrito. "I wish I could have been a bit faster, I got a little slow towards the end."
He called the burrito one of the best he's ever eaten and though he's proud of his feat as the first to finish the Anaconda, he knows others will soon attempt the challenge.
"I definitely won't be the last, mark my words. There will be others who will come."
PEOPLE LOVE BURGER KING'S WHOPPER-BURRITO MASHUP
In November, Taqueria Yarelis posted a video to Facebook showing how the colossal delicacy comes together. It includes refried beans, meat, cheese, rice, and sauce all rolled into five tortillas. Then it's grilled or baked. The restaurant's Facebook video has garnered over 17 million views.
The burrito normally costs diners $23 but Edwin Espinoza, who created the Anaconda, treated Martinez to this record-breaking meal.
Though impressive, the Anaconda is child's play compared to the world record holder for the largest burrito. That honor goes to a 12,785-plus pound behemoth created by 3,000 volunteers in La Paz, Baja California Sur, Mexico in Nov. 2010. The tortilla itself for that burrito weighed over two tons.