Comey testimony reveals he canceled date with wife to meet with Trump for 'awkward' dinner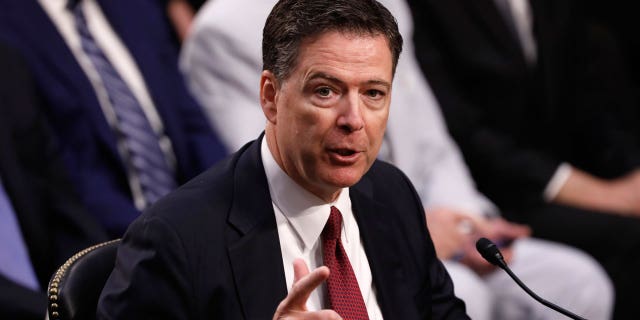 Former FBI Director James Comey made it clear during Thursday's Senate Intelligence Committee hearing that he wasn't too thrilled with the outcome of his one-on-one dinner with President Trump.
But aside from the "awkward silence[s]" and Trump's repeated requests for loyalty, Comey revealed that he had another, more personal reason to be miffed: He was forced to cancel a previously planned dinner date with his wife.
During Comey's testimony, Sen. Angus King (I-Maine) asked the former FBI director if he "in any way" initiated his and Trump's Jan. 27 dinner at the White House, to which replied that he did not.
BARS OPENED EARLY FOR COMEY TESTIMONY, OFFERED THEMED EATS
"No. [President Trump] called me at my desk at lunchtime and asked me, was I free for dinner that night," said Comey.
"[President Trump] called himself and said, 'Can you come over for dinner tonight?' And I said, 'Yes sir.' He said, 'Will 6 work?' I think he said 6 first. Then he said 'I was going to invite your whole family, but we'll do that next time. I want you to come over. Is that a good time?' And I said, 'Sir, whatever works for you.' And then he said, 'How about 6:30?' And I said, 'Whatever works for you, sir.'"
According to Comey's testimony, he and Trump eventually agreed to meet at 6:30 p.m. and ended their phone call.
Comey's next call, however, may not have gone as smoothly as the one before it.
"I had to call my wife and break a date with her," Comey told the Senate panel. "I was supposed to take her out to dinner that night."
TRUMP REPORTEDLY ORDERS COCA-COLA AT THE PUSH OF A BUTTON
King, not missing a beat, chimed in to assure Comey he was probably justified in canceling his dinner date with wife Patrice Failor.
"That's one of the all-time great excuses for breaking a date," joked King, eliciting laughter from the room.
"In retrospect, I would've — I love spending time with my wife. I wish I had been there that night," said Comey.