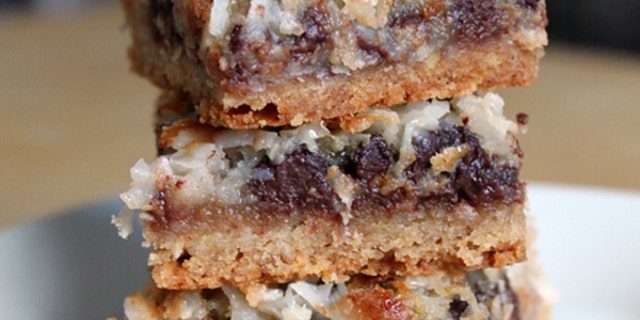 NEWYou can now listen to Fox News articles!
For a sweet gift that also gives back, Feed Your Soul Bakery, an online retailer for cookies, brownies, and other baked goods donates a cookie for every order placed to the Coalition for the Homeless, the oldest not-for-profit advocacy group focused on homelessness in the United States.
Cook Time:30 min
Prep Time:15 min
Total Time:45 min
Servings: 6
Ingredients:
2 cups graham cracker crumbs
1 stick (8 tablespoons) unsalted butter
1 cup sweetened coconut flakes
1 cup semi- sweet chocolate chips
One 14-ounce can sweetened condensed milk
Preparation:
Preheat the oven to 350 degrees. Butter a 9x13 inch baking dish.
Mix graham cracker crumbs and melted butter in a small bowl. (the mixture should hold together when squeezed) Press the mixture evenly into a baking dish, creating a thin layer.
Mix coconut flakes and semi- sweet chocolate chips in a bowl. Spread evenly over graham cracker base.
Pour condensed milk over the coconut filling evenly until the pan is filled. Bake at 350 degrees for 25-30 minutes (bake until the sides are golden brown) Allow to cool completely.