Chloe Kim tweets about being 'hangry,' craving ice cream at Olympics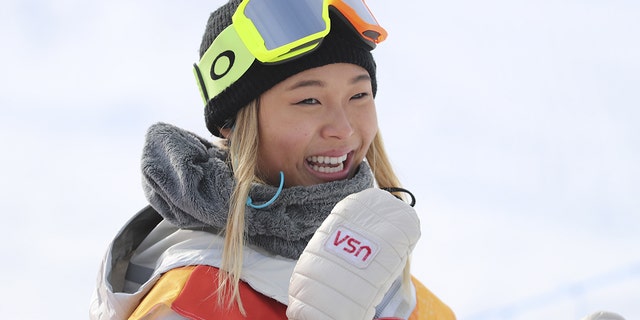 Like any serious teen athlete, Chloe Kim knows that fueling up is critical for peak performance. What sets the 17-year-old Californian apart, however, is that she's competing at the 2018 Winter Olympics and her 190,000 Twitter followers can't get enough of her food cravings.
"Wish I finished my breakfast sandwich but my stubborn self decided not to and now I'm getting hangry," the Team USA snowboarder tweeted on Feb. 12, hours after she took the gold in the women's halfpipe event with a staggering score of 98.25.
RUSSIAN CURLER WHO FELL AT OLYMPICS 'LOOKS LIKE ANGELINA JOLIE AT 21'
Though the prize crowned Kim as the youngest woman ever to win an Olympic snowboarding medal, her jitters before were real. The ever-relatable snowboarding star took to Twitter to share an anxiety-easing snack.
"I'm so nervous!!!!!!!," Kim wrote on Feb. 11. "Oh and I also had 2 churros today and they were pretty bomb so if you ever get nervous go eat a churro."
"Could be down for some ice cream [right now]," she later mused, to the delight of her fans.
NBC Olympics was quick to post a poll asking "What kind of ice cream should @chloekimsnow get?" and Cookies & Cream soon emerged as the winner. Ever the democratic contender, Kim voiced her approval.
"Cookies & Cream is some good stuff. If anyone can get me some to the village that'd be dope," she said.
SHAUN WHITE SHOCKS CHEF BY SHOWING UP TO EAT $920 NAMESAKE BURGER
Despite her fierce training regimen, Kim appreciates the finer foods in life. The four-time X Games gold medalist has previously shared photos of herself on Instagram and Twitter snacking on Belgian waffles, blue juice, sprinkled donuts and California Pizza Kitchen.
"I don't snowboard to win everything. I do it because I love it. I do it because I have fun, and everyone else can think whatever they want. For me, it's all about fun and I enjoy it so much," her official Olympic profile reads.
Kim's not the only member of Team USA winning praise for her casual attitude on the slopes. Fellow 17-year-old snowboarder and gold medalist Red Gerard almost overslept through his Olympic event and reported that his family was "shotgunning beers" en route to his performance on Feb. 11.
FOLLOW US ON FACEBOOK FOR MORE FOX LIFESTYLE NEWS