Chinese restaurant chain loses $190 million after pregnant woman claims to find rat in soup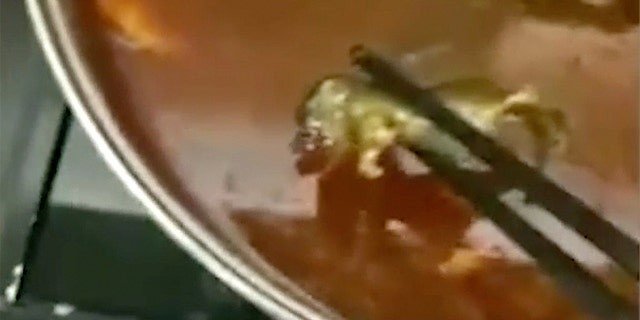 NEWYou can now listen to Fox News articles!
A hotpot restaurant in eastern China lost around $190 million in market value after a pregnant woman claimed to have found a dead rat in her soup.
The well-known chain, Xiabu Xiabu, was closed for an investigation by health officials after the incident occurred and stock hit the lowest level in almost a year after news spread, the BBC reports.
MCDONALD'S WORKERS IN 10 CITIES PLAN STRIKE OVER SEXUAL HARASSMENT POLICIES
The woman and her husband were eating at the restaurant Thursday night when she discovered the dead rat in the hotpot — and claims restaurant staff offered her money to get an abortion if the meal affected her unborn baby's health, according to reports.
Her husband, last name Ma, alerted restaurant staff to the situation. Ma alleges that restaurant staff offered the couple cash for an abortion if they were worried about the health of the baby after eating the rat soup.
"If you are worried about the baby, then we'll give you 20,000 yuan ($3,000) to abort it," Ma says the staff told him, South China Morning Post reports.
MONTANA RESORT CATERS TO DOGS WITH GOURMET MEALS, MIXERS AND FOUR-LEGGED FASHION SHOWS
Ma said he and his wife went to the hospital where she had a checkup to ensure the baby was healthy.
The restaurant allegedly later offered Ma 5,000 yuan ($728) in compensation for the incident — a price he was willing to negotiate after the hospital visit, he told the South China Morning Post.
It was not reported how much money, if any, the couple received.
Health officials investigated the restaurant and found no traces of rats, but shut down the location for other violations, including pooled water in the food processing areas and using produce suppliers without full qualifications.
FOLLOW US ON FACEBOOK FOR MORE FOX LIFESTYLE NEWS
In a statement released to South China Morning Post Saturday night, Xiabu Xiabu said it had always placed great emphasis on food security and would make any necessary improvements.
Xiabu Xiabu has 759 restaurants in China, South China Morning Post reports.