Chick-fil-A will begin selling meal kits next month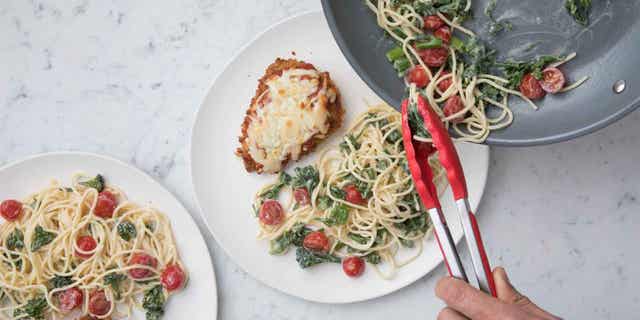 Pretty soon, Chick-fil-A aficionados will be able to make the fast-food-inspired chicken delicacies from their own kitchen.
Chick-fil-A announced Monday it will begin selling next month meal kits with fresh, pre-measured ingredients in 150 restaurants in the Atlanta area.
There will be five recipes to choose from — chicken parmesan, chicken enchiladas, Dijon chicken, pan-roasted chicken and chicken flatbread — but restaurants will only offer two options at any given time, the fast-food giant said in a news release.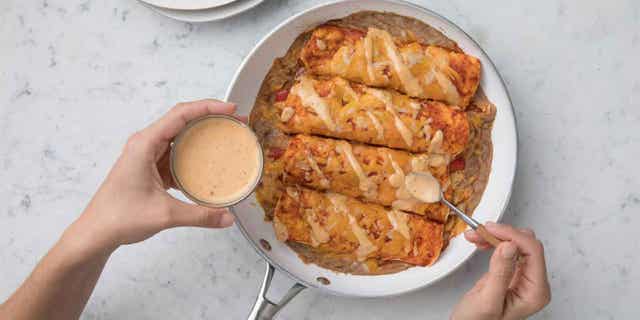 TEXAS COUPLE DELIVERS BABY IN CHICK-FIL-A BATHROOM
Each kit will feed two people and cost $15.89. Customers can purchase them in a store, through the mobile app or in the drive-thru.
"We know our guests are busier than ever and need a variety of convenient dinner options," Michael Patrick, the innovation program lead at Chick-fil-A who spearheaded the effort, said in a statement.
"We designed our offering so our guests don't have to order ahead, subscribe to a service or make an extra stop at the grocery store," he said. "They simply pick up a Mealtime Kit at one of our restaurants at their convenience — for example, when they're already at a Chick-fil-A restaurant grabbing breakfast or lunch, or in the drive-thru on their way home."
The recipes were developed by Chick-fil-A chef and Atlanta restaurateur Stuart Tracy, the company said, noting that it will be the first-fast food restaurant to offer meal kits to customers.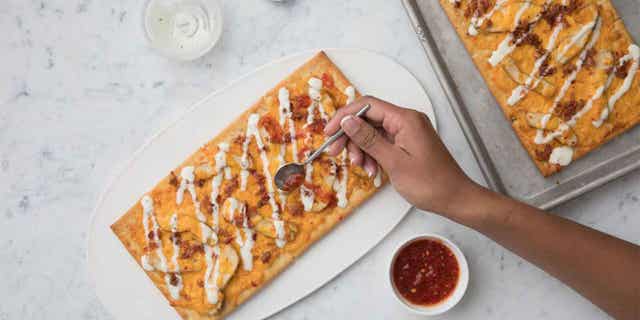 The first two meals up for grabs will be the chicken enchiladas and chicken parmesan. They will be available from August 27 to September 22.
Then, from September 24 to October 20, customers will be able to purchase chicken flatbread and pan roasted chicken meal kits.
Tracy said the flatbread concept was one of the more unique recipes created for the kits.
"We wanted this to be something someone could easily make at home for dinner or take to a party. The flavors in this flatbread are through the roof," Tracy said of the recipe, which includes a pimento cheese blend, spicy pepper relish and bacon.
The crispy Dijon chicken, an homage to Southern cuisine with smoked Gouda macaroni and cheese, will be the final meal kit, available from October 22 to November 17.
Those not in the Atlanta area can go online and request Chick-fil-A brings meal kits to their city next.
CHICK-FIL-A EMPLOYEE HOLDS UMBRELLA FOR CUSTOMERS IN POURING RAIN, GOES VIRAL
News of Chick-fil-A meal kits comes a week after the chain announced it would be "retiring" its popular Cow Calendars this year. The calendars featured monthly coupons for free food along with the company's iconic, grammatically-challenged cow mascots pictured engaging in shenanigans.