Chick-fil-A honors fallen soldiers with special empty table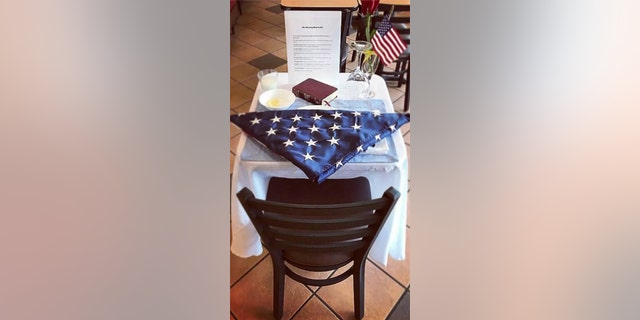 Chick-fil-A celebrated fallen soldiers on Memorial Day by setting an empty table in remembrance of them.
At several locations across the country, the chicken chain set a special place as a reminder of those who've lost their lives serving our country.
"It's a tradition in military services when you have a formal celebration to have a table for those who didn't make it back," retired Navy Commander Marinus Storm, who runs a Chick-fil-A in Jacksonville, Fla. said in a statement.
MOM CLAIMS IHOP DISCRIMINATED AGAINST HER 3-YEAR-OLD SON WHO WAS BORN WITHOUT ARMS
The Missing Man Tables, also referred to as Remembrance or Fallen Soldier Tables, were set with a white tablecloth "for the purity of the service members' motives in serving their nation" and an "empty chair that will never be filled."
On top sat a red rose, an American flag, a Bible and a framed message about the meaning of the display.
"People have always been touched by it, especially veterans and the generation that has children in the armed forces now," Storm said. "There's no doubt this is an opportunity to teach people, specifically those who don't have any connection to the military, about the sacrifices our service members make and that hose losses last."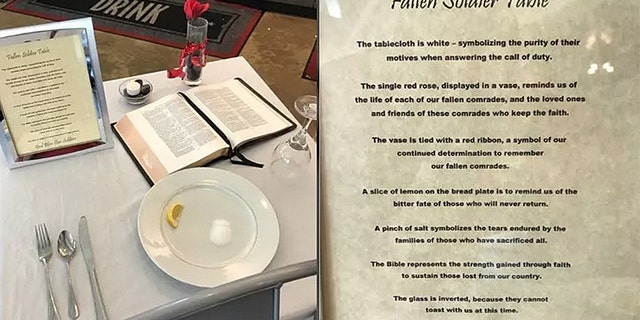 Chick-fil-A wasn't the only restaurant to set up a Missing Man Table over the holiday weekend. Slim Chickens in Longview, Texas set up a similar display for fallen soldiers.
FOLLOW US ON FACEBOOK FOR MORE FOX LIFESTYLE NEWS
"The single red rose, displayed in a vase, reminds us of the life of each of our fallen comrades, and the loved ones and friends of these comrades who keep the faith. The vase is tied with a red ribbon, a symbol of our continued determination to remember our fallen comrades. A slice of lemon on the bread plate is to remind us of the bitter fate of those who will never return," a sign describing the items read.