Chick-fil-A helps teen employee get a prom date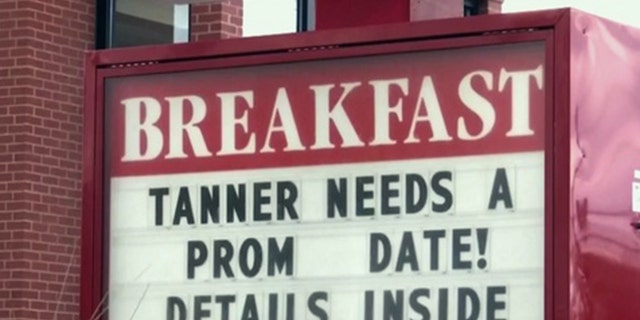 Chick-fil-A may be starting a new business: matchmaking.
A Florida Chick-fil-A used its restaurant marquee to advertise that one of its employees, Tanner Waters, needed a date to prom.
"Tanner needs a prom date! Details inside."
CHICK-FIL-A TO BECOME NATION'S THIRD-LARGEST FAST FOOD RESTAURANT BY 2020, ANALYSTS SAY
The 17-year-old, a senior at Winter Springs High School, told Inside Edition he was struggling to find a date for his senior prom, which prompted him to ask his manager at the fast food chain to go with him.
"No, I'm not going to prom with you," his manager, Billy McClarnon replied, Inside Edition reported. "But if you need some help, I'll put it on the reader board for you."
Waters was excited by the idea and let McClarnon advertise his plight on the board out front. Waters, who works at the chicken restaurant three times a week, also let McClarnon take a picture of him to show to potential suitors when he's not there.
Waters said his prom is at the end of the month and hopes someone will respond to the ad.
"I'm a great person," he said. "I have a great personality. You're going to have a great time with me. You get free dinner — someone is buying us dinner — it's going to be a great night."
FOLLOW US ON FACEBOOK FOR MORE FOX LIFESTYLE NEWS
However, he does have a plan B – a co-worker agreed to go with him if he can't find a date, Inside Edition reported.