Chick-fil-A employee holds umbrella for customers in pouring rain, goes viral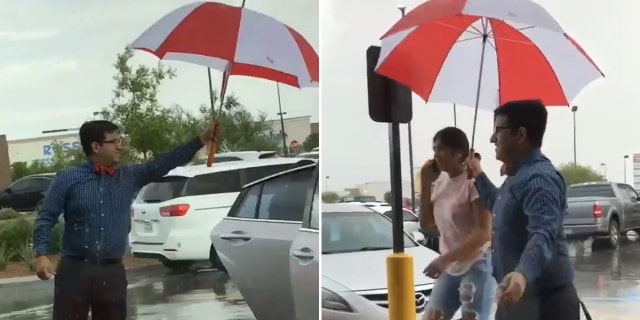 A Chick-fil-A employee's act of kindness has gone viral after a customer captured video of him holding an umbrella for people in the rain.
Matthew Nunez, the hospitality director at a Chick-fil-A in El Paso, Texas, was working at the restaurant on a stormy day last week. Instead of staying indoors where it was dry, Nunez is seen running around in the heavy downpour carrying a large umbrella from customer to customer in the parking lot.
Nunez's good deed was recorded by high school student Mark Ramos, who was dining at the fast-food chain at the time.
FIRED DUNKIN' DONUTS WORKER SAYS 'I DON'T SERVE COPS' COMMENT WAS A JOKE
"Chick-fil-A, hands down, best service," he captioned the video.
The video, which was shared on Twitter, had been viewed over two million times as of Thursday morning.
Nunez commented on the tweet. "As always, it's my pleasure my friend," he wrote.
He also addressed the video on his own profile.
"I would like to give a big thank you to [Mark Ramos] for the video you posted. It was an encouragement I very much needed. And a big thank you to everyone for the love and the encouragement you've shown. May we strive to be kind and love one another," he tweeted
Ramos replied: "No, thank you Matt, every time I'm at Chick Fil A I see you serving everyone with the biggest smile and it enlightens me to always remain positive, so I give you a big thank you for being a huge role model to everyone in the community."
Nunez said in an interview with Ramos on Power 102's morning show Wednesday that he's "still in shock" because he never expected the video to go viral, KFOX 14 reported.
Ramos told the station he's witnessed Nunez's kindness first hand on multiple occasions. "I'm always seeing how he greets everyone with a smile. I want to replicate that when I'm out with my friends and meeting new people," he said.
FOLLOW US ON FACEBOOK FOR MORE FOX LIFESTYLE NEWS
Nunez also took the time to sign "positivity umbrellas" for listeners calling into the station.
"At Chick-Fil-A, when somebody says 'thank you,' [we respond with] 'my pleasure, it's my pleasure to serve,'" he said.