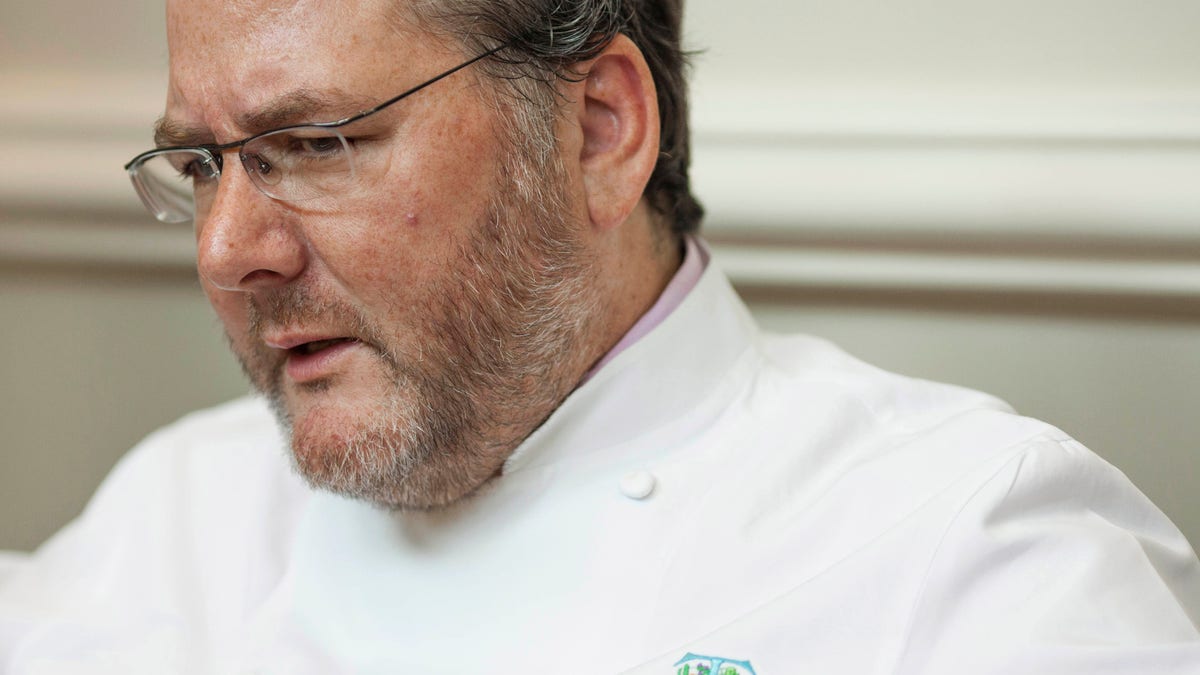 CHICAGO – Acclaimed chef Charlie Trotter was remembered Monday for turning Chicago into an international culinary destination, mentoring countless aspiring chefs and even inviting the homeless into his restaurant's kitchen to sit and eat at one of the most famous tables in the world.
Approximately 1,000 people, including renowned chefs from around the United States, Chicago Mayor Rahm Emanuel and a few dozen former employees wearing white chefs' coats in Trotter's honor turned out.
Trotter died last week at the age of 54. Pathologists have ruled out foul play or trauma. Trotter had a history of medical problems, including an aneurysm and high blood pressure and had suffered seizures, but the exact cause of death is pending the results of various tests and aren't likely to be completed for several weeks.
Memorial attendees listened to speakers tell of Trotter's career — from the way he traveled around the world to work in restaurants to learn what he needed to open Charlie Trotter's' in the 1980s, to the years he spent helping those get the kind of formal culinary education he did not have himself.
"If you (want to) see his monument, look around you," said the Rev. Sara Sarchet Butter to the packed Fourth Presbyterian Church of Chicago. "You are his memorial, you who he trained, mentored and inspired."
A host of culinary luminaries were in the audience, some who once worked for Trotter, including Graham Elliot. They crowded into the pews with well-known chefs including Emeril Lagasse, Rick Tramonto and Rick Bayless.
After the service, attendee Doretha Sandridge said Trotter spoke to her son's high school class, invited him to his restaurant and ultimately hired him.
"Now my son is attending a culinary school," she said.
Lee Jones, a farmer in Ohio, told of how Trotter invited 30 of his employees to the restaurant to thank them, and the experience of getting off a bus to be greeted by Trotter's entire kitchen staff standing out front applauding them.
"Charlie was there to shake everyone's hand, and it gave us such a sense of pride," he said.
People talked about the experience of going to Charlie Trotter's over the quarter century, until Trotter closed it in 2012 — ending a run during which he earned 10 James Beard Awards.
For example, Emanuel told of Trotter's well-known practice of constantly changing the menu, tinkering with it to the point where it was widely reported that he never served the same dish the same way twice.
But there was also talk about how Trotter made that experience accessible to those who could never afford it on their own. Emanuel told of Trotter inviting a homeless person or someone out of work into his restaurant for a meal.
"Think about that: He might have some celebrity or high-powered politician waiting in line for a table in the front of the restaurant, while in the back Charlie and his staff would be serving someone who had probably only been looking for a normal meal, but now was sitting down to an 8-course meal with all the bells and whistles, free of charge."
There were some references to Trotter's reputation as a demanding taskmaster, both during the service and among mourners outside. Most portrayed Trotter as a perfectionist and culinary artist.
Outside, retired art teacher Debbie Dipert said she'd heard that Trotter could be prickly but said what she remembered was the night she and her husband went to the restaurant a month before it closed.
"He came over and talked to us for a long time," she said. "He felt like a friend even though we had never met prior to that."